Address
7 Straits View
#23-01 Marina One East Tower
Singapore 018936
Republic of Singapore
Telephone
65-6538-3388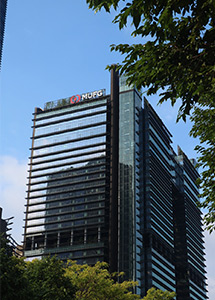 Funding facilities in Singapore dollar and other freely-traded currencies
Operating accounts in Singapore dollar and all major currencies
Electronic cash management services
Export services including DP/DA Collection, SBLC Confirmation, LC Forfaiting, A/R Purchase, etc.
Import services including LC Issuance, Guarantee, Payable Financing, etc.
Treasury Services covering G7 and Asian currencies
Derivatives
Advising on Private Debt Securities
Corporate Investment and Advisory Services
Active in syndicated loan transactions
Project finance, securitization services
ECA finance, M&A advisory & financing
A bank with deep roots in Asia, MUFG Bank's presence in Singapore dates back to 1957. It moved its regional headquarters for Asia and Oceania from Japan to Singapore in July 2013 to better harness the growth opportunities of a rising, dynamic Asia.

As the regional headquarters, the Singapore office covers 13 countries across South Asia, Southeast Asia and Oceania where we serve our corporate and investment banking clients under the MUFG brand. We go to market with our consumer, wealth, and commercial banking clients under the Bank of Ayudhya ("Krungsri") brand largely in Thailand.
Global Wholesale Foreign Exchange (FX) Dealing Disclosures
MUFG Bank adheres to the FX Global Code (the Code). Please see our Statement of Commitment below. In addition, the Global Wholesale Foreign Exchange Disclosure document sets out our disclosures in relation to standard dealing with clients and other market participants in principal-to-principal transactions in the wholesale FX markets, including with respect to FX options, spot, swaps, deliverable and non-deliverable forwards.
Best Execution Policy
Please refer to the document below for MUFG Bank, Ltd. Singapore Branch's ("MUFG Singapore") Best Execution Policy. This document covers the applicability of best execution in MUFG Singapore and how MUFG Singapore will take steps to achieve best execution for eligible transactions of customers.
Consent Letter for Singapore-Based Customers

General Inquiries Related to the Personal Data Protection Act in Singapore

Personal data in Singapore is protected under the Personal Data Protection Act 2012 (PDPA). Please refer to the Singapore Personal Data Protection Policy on how we collect, use, disclose and/or process the personal data that you have provided to us.
For inquiries, feedback or requests relating to the use or disclosure of personal data, please contact our Data Protection Officer.
By Mail:
The Data Protection Officer
MUFG Bank, Ltd.
7 Straits View
#23-01 Marina One East Tower
Singapore 018936
Republic of Singapore
By E-mail:
Personal_Data_Protection@sg.mufg.jp
Please note that only inquiries and requests related to the PDPA in Singapore will be addressed.
*Please download and save a copy before use.

*Please download and save a copy before use.

*Please download and save a copy before use.

*Please download and save a copy before use.