Trade Finance
With MUFG's extensive global network and wealth of experience, our dedicated trade finance and risk advisory teams are uniquely positioned to help you promote your trade transactions and manage your finance and risk requirements.
Export Services
1. Export Financing
2. LC/DA/DP/TSU Collection
3. LC Confirmation
4. LC Discounting
5. Account Receivable Purchase
6. Silent Payment Guarantee
7. DA Discounting
Import Services
1. Import Financing
2. Import LC, DA, DP, TSU
3. Payables Finance
4. PO Finance
1. Trade Manager
Trade Manager is an online total trade portal for corporate clients. It supports initiation and management of daily trade transactions. Transaction activities and information are on a real-time basis, and trade transactions can be easily access from customizable dashboard.
Commercial Letters of Credit
Bank Guarantees / Bonds
Standby Letters of Credit
Shipping Guarantee
Smart Application
2. Payables Finance
Payables Finance is a finance scheme which the Bank extends funding to the obligor's supplier through discounting their Accounts Receivable (A/R) due from the obligor. Obligor only submits payment instruction indicating A/R details, its authenticity, etc. to the Bank.
Benefits to Obligor
Opportunity for improving payment conditions
Reduction of purchasing costs
Benefits to Supplier
Financing through obligor's credit.
Improvement of cash flow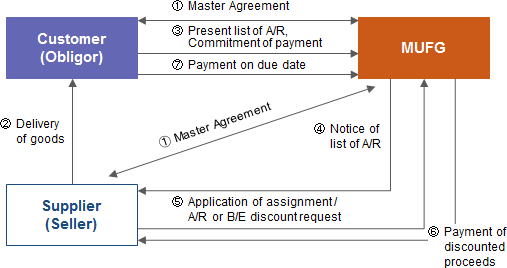 3. TSU/BPO (Trade Service Utility/ Bank Payment Obligation)
TSU enables you and banks to exchange and match trade information electronically on the interbank system enhanced by SWIFT.
Benefits for Supplier
No submission of the original shipping documents to bank
Earlier collection of cash and check
Benefits for Buyer
Reduce the operation/management process
Payment after confirming if the shipment was conducted as contracted
BPO is an irrevocable, conditional obligation from one bank to pay another bank, subject to the presentation of compliant data in the TSU. URBPO (Uniform Rules for BPO) came into effect at the Apr 2013 ICC Congress, and BPO is expected to grow.