Message from the President & CEO of MUFG Bank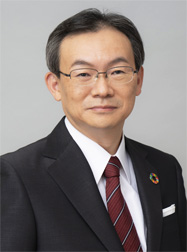 On behalf of my colleagues at MUFG Bank, our sincere gratitude for your continued support during this time of profound societal and economic change.
Powerful forces are accelerating rapidly, including digitalization and broad efforts to solve environmental and social issues.
The international order underlying global economic activity is being challenged by shifts in geopolitical dynamics. And as inflationary pressures increase, the long-term ultra-low Japanese interest rate environment shows possible signs of easing.
In view of these forces, we see corporate clients making bold investments for growth, and individual customers seeking to enhance daily life through new digital technology and financial tools.
MUFG, including our Bank, has formally stated that our purpose – our raison d'etre – is being "Committed to empowering a brighter future." This phrase encapsulates our determination to do our utmost to help our clients, customers, and all other stakeholders take confident steps toward fulfilling their aspirations.
Under our current three-year medium-term management plan, launched in 2021, we will continue to transform ourselves in accord with our purpose, and provide safe and secure services relevant to society's needs well into the future, through a variety of innovative and convenient channels.
With this commitment, we aim to be the bank that opens your path to the future.