Message from Management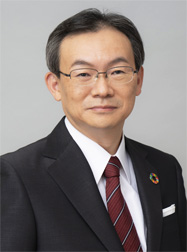 Kanetsugu Mike
President & CEO
Under our vision "Be the world's most trusted financial group," we at MUFG work together to pursue a consistently high level of quality that exceeds our customers' expectations. We place a strong emphasis on customer engagement, along with providing dependable and consistent support. Our mission is to expand and strengthen our global presence as the bank of choice -- both in Japan and across the globe.
The global economy has achieved steady recovery over the last few years. However, going forward, markets merit close watch for changes which could be triggered by shifts in central bank policies or signs of a turning point in the credit cycle, as well as growing uncertainty caused by geopolitical risks.
Meanwhile, Japan's low growth and ultra-low interest-rate environment are seen as likely to continue on the back of serious challenges such as its aging population, declining birthrate and deceasing population. In addition, the ongoing wave of digital technology-fueled transformations is poised to drastically change society and whole industries – including the financial industry.
MUFG publicly announced the outline of its "MUFG Re-Imagining Strategy" in May 2017. This plan aims to swiftly and flexibly respond to the above-mentioned changes and put the company on a growth track. We commit to steadily improving our business model to satisfy all stakeholders -- customers, shareholders and employees -- while maintaining a strong business base in Japan and tapping into global growth.
Commitment to our customers has made us into the strong financial institution we are today. More than ever, we'll make a concerted effort to be an essential part of society and the global economy.
We greatly appreciate your continued support.

Kanetsugu Mike
President & CEO
MUFG Bank, Ltd.