Message from the President & CEO of MUFG Bank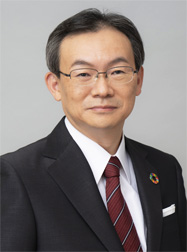 I would like to express my sincere gratitude for your continuous support.
As of April 2021, I assumed the position of President & CEO of MUFG Bank.
Allow me to express my heartfelt sympathy to all those affected by the COVID-19 pandemic. The MUFG Group, including MUFG Bank, will fulfill our responsibility as the financial infrastructure of society, to support continuity in business and livelihoods, so that the economy and society can regain its energy and stability as soon as possible.
Efforts to respond to the health threat posed by COVID-19, the declining birthrate and aging population, as well as the need to address societies rapidly advancing digitalization and decarbonization efforts, will bring transformation to our industrial and socio-economic structure, leading to development and growth of a sustainable society.
While all of our stakeholders are overcoming challenges to find a way to the next stage, toward sustainable growth, we will make every effort to help realize these goals. This will be our unchanging purpose now, and into the future. It is with this goal that the MUFG Group have defined our purpose: to "Committed to empowering a brighter future.", and in order to achieve this, we will start our new Medium-Term Business Plan in April. We will move forward with the transformation of our business model while emphasizing speed, with the goal of contributing to addressing your problems and creating a "bank that opens a path to the future".
We sincerely appreciate your continued support.