| | |
| --- | --- |
| Address | Trinity Tower, Lt. 6-9, Jl. H.R. Rasuna Said Kav. C22 Blok IIB Jakarta 12940, Indonesia |
| Telephone | 62-21-2553-8300 |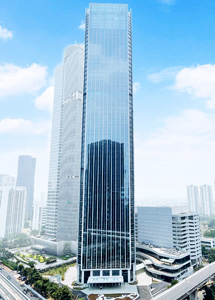 Deposits
Remittances and Settlements
Loans
Exports and Imports
Treasury
MUFG opened a representative office in Indonesia in 1957, and it became a full-fledged branch with a full suite of services in 1968. The bank currently has a branch in Jakarta, one sub-branch in Surabaya, and nine service points across the country (in Bandung, Bekasi, MM2100 Industrial Town, Karawang, Sunter, Cengkareng, Cikampek, Kota Deltamas and Suryacipta City of Industry).

Indonesia's investment-grade credit ratings, low inflation, and high economic growth make it a magnet for foreign investment, and its economy continues to be driven by investment, domestic consumption, and exports. As a trusted intermediary for businesses between the country and Japan for over 50 years, MUFG is committed to help both countries discover and collaborate on new business opportunities for greater success.
Visit our website at: www.mufg.co.id.

(as of April 1, 2018)

| | |
| --- | --- |
| Address | EJIP Center, EJIP Industrial Park, Cikarang Selatan, Bekasi 17550, Republic of Indonesia |
| Telephone | 62-21-897-5148 |
| | |
| --- | --- |
| Address | Sentra Niaga, Blok A-II/29 No. B7, Kota Bukit Indah |
| Telephone | 62-264-350533 |
| | |
| --- | --- |
| Address | Ruko El Premio No. 7 Deltamas Boulevard – Kota Deltamas, Jl. Tol Jakarta-Cikampek KM. 37, Desa Sukamahi Kec. Cikarang Pusat Bekasi 17530, Republic of Indonesia |
| Telephone | 62-21-8997-0760 |
| | |
| --- | --- |
| Address | Befa Square Unit G-C Lantai G, Jl. Kalimantan, Kawasan Industri, MM2100, Desa Gandasari, Cikarang Barat, Bekasi, Jawa Barat 17842, Republic of Indonesia |
| Telephone | 62-21-898-1167 |
Suryacipta City of Industry Service Point
| | |
| --- | --- |
| Address | The Manor Office Park, 1st Floor, Unit E & F, Jl. Surya Utama Kav. C-1, Suryacipta City of Industry, Karawang 41363, West Jawa, Republic of Indonesia |
| Telephone | 62-21-3042-4000 |
| | |
| --- | --- |
| Address | ANZ TOWER, 21 Floor, Jalan Jenderal Sudirman Kav. 33A Jakarta 10220, Republic of Indonesia |
| Telephone | 62-21-571-1109 |