Dhaka Representative Office
| | |
| --- | --- |
| Address | Pan Pacific Sonargaon Dhaka, Annex Building (3rd Floor), 107, Kazi Nazrul Islam Avenue, Dhaka 1215, Bangladesh |
| Telephone | 880-2-48119366 |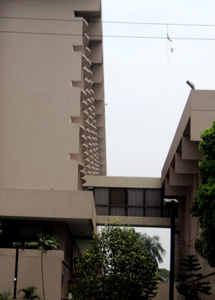 Gathering and transmission of Bangladeshi political, economic and financial information.
Assisting correspondent banking operation.
Providing country's information to Japanese companies and support.
Supporting Economic Cooperation Operations.
Named one of the "Next Eleven" countries by Goldman Sachs, Bangladesh has benefited from sustained economic growth since its founding in 1971. The country's low cost of labour has helped support a large textile and garment industry, making it the world's fourth-largest clothing exporter. Bangladesh also has an attractive domestic market, which many Japanese companies are approaching to expand their business.

The Bank of Tokyo-Mitsubishi UFJ, Ltd. (current MUFG Bank, Ltd.) predecessor company the Bank of Tokyo opened a representative office in Dhaka in 1990. Currently 7 staff members work at the office.

(as of April 1, 2018)