Colombo Representative Office
| | |
| --- | --- |
| Address | #04-02, West Tower, World Trade Center, Echelon Square, Colombo 01, Democratic Socialist Republic of Sri Lanka |
| Telephone | 94-11-232-3939 |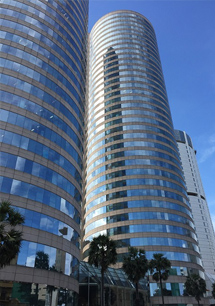 collection of necessary information regarding the Sri Lanka economy (including in particular information related to infrastructure projects/developments in Sri Lanka), politics, money market, business environment, etc. from the relevant parties in Sri Lanka.
contacting, maintaining and communicating with the authorities, lawyers, accountants, etc. with respect to the regulations, rules and other important information.
liaising with Japanese customers who have a banking relationship with MUFG Bank, Ltd. in Japan or in other countries to support their business in Sri Lanka.
Sri Lanka, neighboring to India which is also rapidly developing, is located astride the strategic sea lane which connects Asia with the Middle East and Africa. Sri Lanka has been enjoying a high economic growth rate of 6-8% per annum, largely driven by rising demands for infrastructure construction and flourishing tourism. Currently, there are more than 100 Japanese corporates invested in Sri Lanka, and more investments are expected.

The Bank of Tokyo-Mitsubishi UFJ, Ltd. (current MUFG Bank, Ltd.) opened a representative office in Colombo, Sri Lanka in January 2016. Through this new representative office, MUFG Bank, Ltd. will continue to further enhance its financial solutions and offerings to better meet the needs of its customers operating in or trading with Sri Lanka by making the most of its extensive network, which is the largest among Japanese banks.

(as of April 1, 2018)