| | |
| --- | --- |
| Address | Level 19, 151 Queen Street, Auckland, New Zealand (mailing address: P.O.Box 105160, Auckland, New Zealand) |
| Telephone | 64-9-302-3554 |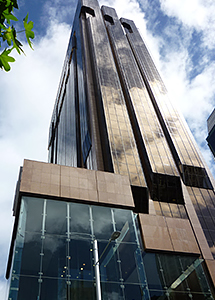 Corporate Banking - deposits, loans, foreign exchange, trade finance,foreign and domestic remittances.
Treasury transactions - hedging against currency and interest rate risks.
Project finance - financial advisory.
Global Cash Management Services.
New Zealand has a market economy that is greatly dependent on international trade. It is strongly focused in primary industries such as agriculture, forestry, and dairy products.
In 1972 predecessor company the Bank of Tokyo opened the Wellington Representative Office. The office moved to Auckland in 1989, became a branch of our Australian subsidiary in 1996, and was restructured to form the Bank's Auckland Branch in 2006.
As the only Japanese bank in New Zealand, we place a particular focus on expanding business with major domestic companies as well as providing support to Japanese companies.
The branch is run on the hub-and-spoke system, where the Auckland Branch focuses primarily on marketing and the main back-office function is based in our Sydney Branch.