Staff Interview : Fadheelah Alsaba, EMEA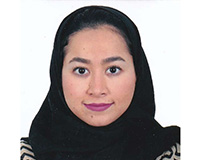 Fadheelah Alsaba
Director & Head of Operations
Business Operations Department, DIFC branch – Dubai
Dubai, United Arab Emirates

What do you think is MUFG's competitive edge?
MUFG's strength lies in its global network and wide presence, bringing service to our customers together from different regions. MUFG has demonstrated its resilience, sustainability, and continuous growth in the banking industry. We have been putting the customer at the center of our objectives, and their sustained growth is our main aim.

What is your most rewarding experience at MUFG?
I have built my professional career with MUFG starting as a fresh university graduate. Being dedicated to the organization and growing with it has always been rewarding for me through the opportunities I have received for learning and development, which enabled me to achieve my professional goals and aspire to grow even further. Also, I find being a member of a large global network very rewarding as I have interacted with many colleagues across the globe in my field of expertise and exchanged ideas and best practices over the years.

How would you describe people at MUFG?
People at MUFG are the key driver for the organization's success. Their integrity and sense of responsibility have highly contributed to delivering an extraordinary experience to the customer. With its wide network and versatile cultures, MUFG embraces everyone's difference and treats them equally, which encourages people to work in harmony as a team both locally and globally. MUFG has countless experienced talents and professionals who inspire others and challenge us to grow.

How do you spend your free time?
I cherish the time I spend with my family, and I enjoy gathering with friends and socializing. I love travelling and exploring different cultures, cuisines, and places.