Staff Interview 4: EMEA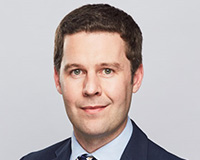 Lee Hardman
Vice president
Global Markets Division for EMEA/ Global Markets Research
London, United Kingdom
What do you think is MUFG's competitive edge?

MUFG is able to thrive today because of the trust and confidence that customers have placed in us. It has resulted from years of fair, transparent, and honorable dealings. In addition, our business culture is not driven by the prospect of short-term gains. Instead, we place a premium on supporting long-term sustainable relationships with our customers to help them meet their goals through providing a consistently high quality of service. It supports our vision to be "the world's most trusted financial group."
What is your most rewarding experience at MUFG?

As part of my role as a currency analyst, I find it rewarding to be able to provide market views and information to a wide range of both internal and external users. I enjoy interacting with global clients through conference calls, meetings, and seminars. It's a rewarding way to help strengthen client relationships. In addition, I have found interacting with the media rewarding in order to help to strengthen the One MUFG brand.
How would you describe people at MUFG?

MUFG is an international organization with very diverse and talented people. The people at MUFG share a strong culture and come together to achieve our common goals. In my current role, I have enjoyed working with people across the globe within EMEA, Asia, and the Americas, all of whom I found to be very supportive and friendly. I have been impressed by their openness to pass on knowledge and experience.
How do you spend your free time?

I enjoy spending free time with my young family. We make the most of the parks in London when the weather is good. I also enjoy cycling with friends and watching football.