Staff Interview : Lai Yin Mei, ASIA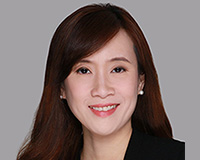 Lai Yin Mei
Director
Credit Risk Management Department, Risk Management Office for Asia
Singapore

What do you think is MUFG's competitive edge?
MUFG's competitive edge is defined by its extensive network and its stability, as a result of the frameworks that it has put in place to increase its resilience to external shocks. Its focus on customer engagement and its commitment to consistently deliver high-quality results to its customers further contribute to its competitiveness.

What is your most rewarding experience at MUFG?
I joined the regional risk management division when it was just established. To be involved in the establishment of the regional risk governance framework and to be able to forge strong partnerships with our regional stakeholders and counterparts in Head Office within a short period of time form the basis of a rewarding experience in MUFG.

How would you describe people at MUFG?
My colleagues in MUFG rise to challenges and are generally receptive to changes in order to pave the way for improvements. While we are collaborative and work effectively as a team, we are also willing to play a supporting role to our colleagues when new initiatives are set, in order to fulfill the department's goals and objectives.

How do you spend your free time?
My free time is mostly spent with my family, cycling or engaging in board games. When the opportunity arises, I like to do volunteering work, and during the rare occasions when I have time for myself, I will read a book or listen to music.