Staff Interview : Mahendra Rendiantama, ASIA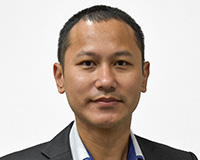 Mahendra Rendiantama
Director, Head of Planning Department
MUFG Bank, Ltd - Jakarta Branch
Jakarta, Indonesia

What do you think is MUFG's competitive edge?
MUFG's global presence and long-term commitment to our customers are our competitive advantage. MUFG Bank has continuously made significant investments that strengthen our network and capability to serve customer needs globally and locally. With the addition of consistency in delivering solutions and results, all these factors together create the strong ties between MUFG and our customers that is beneficial for both sides.

What is your most rewarding experience at MUFG?
MUFG gave me the opportunity to have overseas working experience in Singapore for almost three years. The assignment was to support the establishment of a regional office for Global Corporate Banking for Asia and Oceania. Working in an international financial hub like Singapore boosted my knowledge and confidence as I worked and interacted with colleagues and seasoned bankers in the region.

How would you describe people at MUFG?
When dealing with MUFG people, you feel their passion, Integrity, open-mindedness, competitiveness, and trustworthiness. There's also a strong sense of willingness to work together as one team to reach our goals. This is one of the keys to consistently delivering the same impression and gain trust from our stakeholders.

How do you spend your free time?
I spent most of my free time with my family. Other than that, I love to hit the road with my bicycle. When I speed up with my bike, it sharpens my focus and makes me forget all the issues pending in the office.