Staff Interview 9: Japan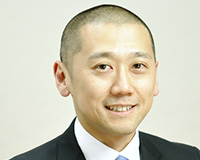 Yohei Kaneko
Senior Manager
Corporate Planning Division
Tokyo, Japan
What do you think is MUFG's competitive edge?

I believe that our biggest competitive edge is "people". More than 110,000 employees around 50 different countries are working in MUFG, but we all share the vison of "Be the world's most trusted financial group". I have many experiences of working in cross-cultural/country teams where maintaining "good and long-term relationships with clients" was always prioritized over short-term profit regardless of country or region. Sharing this value enables MUFG to be the best partner to clients in a sustainable manner.
What is your most rewarding experience at MUFG?

Since graduating from business school in the United States, I have been engaged in strategic planning for 7 years (4 years in NY and 3 years in Tokyo). I am fortunate to be involved in many projects which were more complex and exciting than case studies I learned in business school. One of the most rewarding experiences was a project to integrate Union Bank and BTMU's U.S. Branches since the benefit of the integration was significant for MUFG, and this was the first case of integration between a U.S. bank and foreign banks' U.S. branches.
How would you describe people at MUFG?

I have been enjoying working with colleagues at MUFG because they are good team players, very professional, and have strong commitment to goals. Under the current rapidly changing environment, needs for transformation became apparent in many areas, but people in MUFG tend to welcome and drive these changes, rather than being resistant.
How do you spend your free time?

On weekends, most of my time is occupied by my little kids (4 years girl and 1 year boy). I enjoy picnic, swimming, reading picture books, and sometimes doing BBQs with them. Their smiling faces are always sources of energy for me when I must tackle challenging assignments.