Message from Management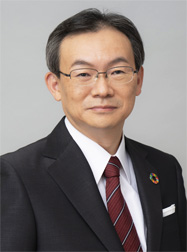 Kanetsugu Mike
President & CEO
On behalf of all my colleagues worldwide, I would like to express our appreciation for your continued support of our business.
Our vision is to "Be the world's most trusted financial group," providing a consistent high level of quality that exceeds our customers' expectations. We believe this is the sustainable path to fulfilling our vision – only by earning their trust will we become the bank of choice not only in Japan but across the globe.
In April 2015, MUFG Bank, Ltd. , a member of MUFG, launched its new Medium-term Business Plan with the aim of achieving this vision, and I am pleased to see that it is already showing results.

MUFG's website
As customer needs become increasingly diversified and sophisticated, structural changes, including an aging and shrinking population in Japan and expansion of cross-border trade flows worldwide, demand that we upgrade our services to meet customer needs. To accomplish this we must leverage our preeminent global network and comprehensive portfolio of financial services by ensuring collaboration across the group, among our commercial banking base in Asia and the United States and other entities, including our trust bank and securities businesses. We will also focus on the effective use of cutting-edge technology, including information and communications technology, and on meeting the needs of our customers with our group's unique products and services. Meanwhile, we intend to continue reinforcing our management base through the pursuit of enhanced productivity and by sustaining our solid financial base.
As part of our commitment to society as a financial institution, we will continue to facilitate financing for small- and medium-sized enterprises, providing housing loans, and meeting the ongoing needs of Japan's post-2011 earthquake disaster reconstruction. We are also continuing to focus on ensuring solid compliance and strengthening our security infrastructure while maintaining and enhancing financial soundness.
We strive to fulfill the expectations of all our customers and support the global economy and society as a whole. We look forward to serving you with the best possible products and services for many years to come.

Kanetsugu Mike
President & CEO
MUFG Bank, Ltd.