Project Finance
We provide professional services in arranging limited-recourse finance and financial advisory in various sectors, including natural resources, power, and infrastructure, backed by our experience, expertise, knowledge, and global network.
BTMU's Services
We provide customized and optimal financing solutions through cash flow analyses, legal and technical due diligence, and the development of financing plans.

Industry Sectors
Gas, Gas Pipeline, and LNG
Oil, Petrochemicals
Mining, Smelting
Power Generation, Transmission, and Distribution
Telecommunications, Information Technology
Waste Treatment
Highway, Railway, Port, Water, and Other Infrastructure
We cover any project that generates steady cash flows to support debt service, and do not limit our scope to the sectors mentioned above.
Financing is subject to our internal credit approval process.
For more information, please contact us.
Typical Structure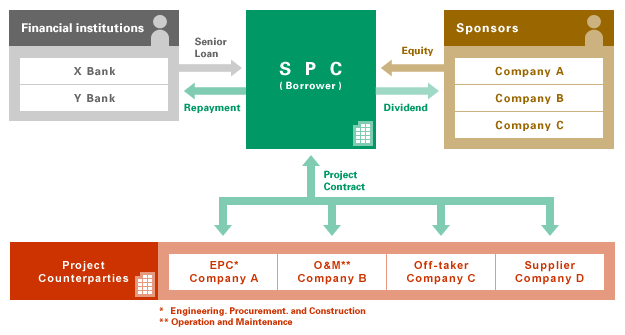 Sponsors establish a special-purpose company (SPC) for the sole purpose of a project.
Contractors are engaged for construction (EPC) and operation and maintenance (O&M). Other players (e.g. off-takers, suppliers) are engaged as needed.
Financial institutions provide loans to the SPC, relying on contractual arrangements with those players.
Project Finance League Table
Project Finance – Global MLA Ranking (Jan-Dec, 2016)
Mandated Arrangers
Amount
US$(mil)
Share
No. of Deals
1
Mitsubishi UFJ Financial Group
14,216
6.1%
150
2
China Development Bank
13,203
5.7%
3
3
Sumitomo Mitsui Banking Corporation
11,079
4.8%
110
4
Mizuho Financial Group
7,752
3.4%
64
5
Credit Agricole
7,390
3.2%
79
···
Source: PFI
Global Network