Staff Interview 5: EMEA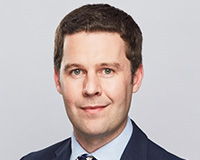 Lina El Kassa'a
Vice President
Risk Management Department, DIFC Branch - Dubai
Dubai, United Arab Emirates
What do you think is MUFG's competitive edge?

MUFG's leadership is driven by its financial stability and sustainable growth, its excellent reputation and expertise in the banking industry, and the ability to deliver high-quality banking products and services. We foster long-term relationships with our clients where we can meet their diversified needs in a rapidly changing environment. We have leveraged our strength by serving our clients through a global network spanning more than 50 countries, promoting sustainable economic growth.
What is your most rewarding experience at MUFG?

I had excellent learning opportunities all along the way. Fortunately, I had the chance to work in two different departments at two different locations, which has vastly broadened my experience and sharpened my skills. In my current position, the most rewarding experience has been the opportunity to collaborate with a wider number of colleagues in various divisions. This has offered me a deep insight into our company's diverse culture and helped me build stronger relationships with my colleagues across the globe.
How would you describe people at MUFG?

People at MUFG are the main contributors to MUFG's competitive edge. They are engaged and committed towards our vision to be the world's most trusted financial group and deliver client success in a team spirit. We have a unique cultural with professional and diverse of people all over the world. In addition, management recognizes the importance of enhancing the employees' skills to ensure that we attract and retain talent.
How do you spend your free time?

Outside the office I spent most of my time with my family. I have the best time when I hang out with my two kids, who always bring joy and happiness to my days. Also I love reading and travelling; they both take me on a journey that broadens my mind.