Staff Interview 5: EMEA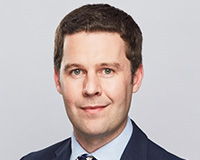 Emmanuelle Van Peer
Associate Director
Global Multinationals, Corporate Banking Division for EMEA
London, United Kingdom
What do you think is MUFG's competitive edge?

MUFG is a long-standing bank with a well-established and competitive global footprint spanning across Asia, Europe and North America. We also have a key focus on expanding operations in Latin America, Africa and other Emerging Markets. At MUFG, it is key to our business to establish trusting relationships and to ensure existing and new relationships are nurtured with internal and external stakeholders. This is further demonstrated by the ongoing support we provide to our clients across a wide-range of industries, geographies and through our full suite of banking services. Furthermore, MUFG continues to invest in the future of its business and people.
What is your most rewarding experience at MUFG?

In addition to completing many deals and transactions, a unique and rewarding experience has been my involvement with organizing and attending a reputable international conference with our competitors. It was the first time MUFG attended and we hope to continue in the future allowing our brand to become more prominent in EMEA. The bank also actively encourages our involvement in CSR projects to help our communities. I have been fortunate to be able to Mentor three school boys through our Mentoring Programme allowing them to better understand corporate and professional life.
How would you describe people at MUFG?

In my role, I am fortunate to work with colleagues from across the world across many divisions.
The people at MUFG are extremely friendly, approachable and have a drive to continuously learn, progress, and adapt to an ever-changing environment. Some of the most important traits I have seen in my colleagues are that they behave responsibly and professionally. They are also great team players and enjoy working together as well as spending time to develop friendships outside of work. I believe this has contributed to the growth and success of MUFG. In combination with people's positive attitude and MUFG's overall conservative culture, the bank has and will continue to perform well in both thriving and less prosperous economic periods.
How do you spend your free time?

Outside of work I enjoy traveling, exploring new countries and meeting new people. Through these experiences I can better understand different cultures. During my free time I also enjoy going out with friends and playing sports.