Staff Interview 6: East Asia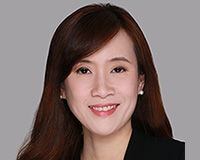 Wan Bi
Assistant General Manager
Corporate Risk Management Division, Bank of Tokyo-Mitsubishi (China), Ltd.
Shanghai, China
What do you think is MUFG's competitive edge?

I think MUFG is a bank with an awareness of the "temperature" of its customers, employees, and community. In the customers' eyes, MUFG grows with them and is never driven by short-term profitability. From the employee perspective – for example to someone like me who have been working in the bank for 20 years – the bank provides opportunities to work in different areas in different locations or even in different countries. On the business side, MUFG is maturing its risk framework and risk culture to maximize its contribution to the stability of the global financial markets.
What is your most rewarding experience at MUFG?

MUFG (China) is a local incorporated bank. In many areas, we cannot just copy practices from our parent bank, and we need to develop a China-specific model or framework to meet regulatory requirements that at the same time has to make business sense. In 2017, my team successfully developed a new model that was about nine months ahead of the release of a relevant regulatory rule. Since we were the pioneer among all the foreign banks in this area, I was invited by one government institution to deliver a lecture about the experience. Actually, this reward belonged to all team players. They devoted their greatest efforts and passion to this project and felt a very strong sense of accomplishment after its achievement. Through this we earned honor for MUFG.
How would you describe people at MUFG?

MUFG is truly an international organization with very diverse and talented people. We have different backgrounds and life experiences, and we grew up in different cultures and with different personalities. Working at MUFG, we are people with Integrity & Responsibility, and having high ethical standards is our people brand. It becomes easier to build a sense of trust among staff members working in different positions and to create a good team work environment here. This is one of the important reasons that I enjoy working at MUFG.
How do you spend your free time?

As a working mum, I spend my personal time with my family. To me, work–life balance means to balance my various roles, i.e., a leader at work, a mother and wife at home. It is not about how many hours to balance, but the quality of time I spend both at work and with family. I talk to my son, sharing his excitements and frustrations. I can spend hours preparing a nice home meal over the weekend, and I plan outings and trips together. I think companionship is the most precious thing for family members.