Staff Interview 7: Asia & Oceania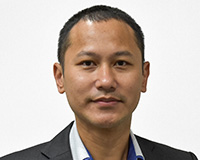 Diana Shmulburd
Director
Australian Structured Finance Office, Sydney Branch
Sydney, Australia
What do you think is MUFG's competitive edge?

I believe MUFG's competitive edge is its commitment to growth through working together across teams, areas of expertise and different jurisdictions. People's willingness to help and share knowledge is a great strength.
What is your most rewarding experience at MUFG?

Advising a leading Australian fund on its purchase of major tertiary hospital in Sydney was definitely a highlight. I am currently advising on the financing of accommodation for disabled people under a new Australian regulatory regime – seeing the commitment and dedication of the people involved in this sector is very rewarding and inspiring.
How would you describe people at MUFG?

People in MUFG are committed to delivering the best possible results for their clients. People I have met both locally and in other offices are committed to providing clear, honest, and thoughtful advice in the best interests of their clients.
How do you spend your free time?

I spend my free time eating and reading with an occasional foray into raising my kids, exercise and Lego construction. Travel is also a key free time occupation.