Staff Interview 7: Asia & Oceania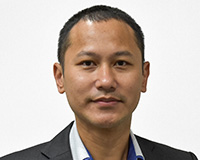 Sanman Sanjeev Shetty
Director
Relationship Management &Sales, Singapore branch
Singapore
What do you think is MUFG's competitive edge?

MUFG is a truly global bank with a wide footprint across five continents. We are the largest Asian bank in the Americas. We are heavily invested in the Asian region, which is the growth engine of the world. This wide and strong network enables us to serve our customers' needs across various geographies with great consistency. MUFG's deeply understanding of its customers and emphasis on long-term relationships has resulted in the forging of strong relationships with customers that have stood the test of time.
What is your most rewarding experience at MUFG?

My most rewarding experience has been to contribute to the stupendous growth in our region's Trade Finance business over the past few years. MUFG is fast emerging as a bank to reckon with in the Transaction banking business. This growth has been achieved despite global macro headwinds and comes at a time when other well-established banks are recalibrating their approach. I hope that we continue on this trajectory and I am able to do my bit to meet our high aspirations.
How would you describe people at MUFG?

In my dealings with colleagues across the network, I have found them to be extremely professional and cooperative. There is a strong sense of One MUFG across the board, which is essential while working on extremely time-bound deals.
How do you spend your free time?

I enjoy spending my free time with my family. My two toddlers ensure that my weekend is extremely busy. During holidays, we love to take self-driven road trips and spend a lot of time at the beach. I also try to stay fit and hit the gym a couple of times a week.