Hiroshige and The Fifty-three Stages of the Tokaido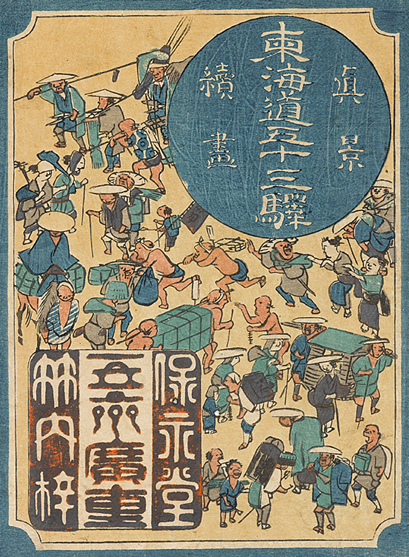 Right: Print case from the Hoeido Edition of The Fifty-three Stages of the Tokaido.
Left (behind the text): Utagawa Hiroshige's signature
The Tokaido Highway, which extended about 500 kilometers (310 miles) from the eastern capital of Edo (now Tokyo) to the old capital of Kyoto, was the most important road in Japan during the Edo period (1603-1867). It was one of many roads and highways constructed around the county that enabled people to travel in safety. Descriptions of Japan became a fad in the latter part of the Edo period, and many traveler's journals and guidebooks were published. Shank's Mare Tokaido (Tokai Dochu Hizakurige), a comic travel novel by Juppensha Ikku, was a best-seller of the day.
In 1832, Hiroshige made his first journey along the Tokaido from Edo to Kyoto, joining an official procession sent by the Shogunate to present horses to the emperor in Kyoto. On his return to Edo, Hiroshige set to work on a series of pictures depicting scenes from each of the way stations along the route, derived from his own experiences and the many sketches he made during the trip. The result is the famous Fifty-three Stages of the Tokaido (Tokaido Gojusantsugi ) published by Hoeido. This set of 55 woodblock prints-53 scenes of post towns plus one of Nihonbashi (the bridge in Edo that was the road's starting point) and another of the Sanjo Bridge in Kyoto (the end point) - made Hiroshige an instant star in the world of ukiyo-e.
Hiroshige's pictures of the Tokaido not only served as a guidebook for this highway; they were also superbly executed landscapes incorporating people and animals for added color. The pictures lyrically depicted humorous as well as occasionally desolate scenes of the post towns, the pleasures of travel, and encounters with local people. The natural environment shown in the scenes reflected different seasons, different weather conditions, and different times of day and night. Using such varied situations and conditions, Hiroshige successfully portrayed the lives of both travelers and townspeople, the haphazard events of travel, the natural beauty of the landscape, and the traditions and professions of local people.
Encouraged by the success of this series, Hiroshige produced in his lifetime more than a dozen Tokaido series, including the Gyosho edition and the Reisho edition of the Tokaido and the Famous Views of the Fifty-three Stages [of the Tokaido] (Gojusantsugi Meisho-Zue), also known as the Tate-e Tokaido.