Utagawa Hiroshige (1797 - 1858)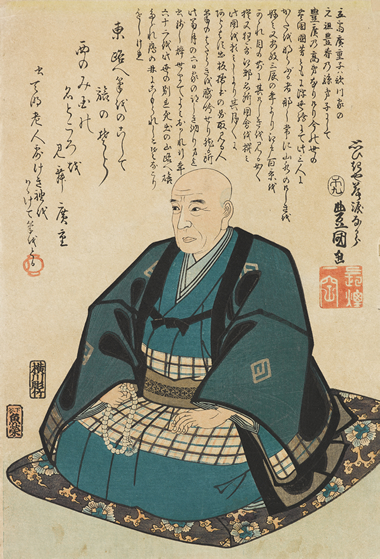 Memorial portrait of Hiroshige by Kunisada.
(Source: Bank of Tokyo-Mitsubishi UFJ Money Museum)
Utagawa Hiroshige was born in 1797 in the Yayosugashi district of Edo, the son of Ando Genemon, a member of the fire-fighting brigade maintained by the Tokugawa Shogunate. At the time, Kitagawa Utamaro and Toshusai Sharaku were at their prime as ukiyo-e artists. Ukiyo-e, which means art of the floating world, refers to the impermanence of life and the enjoyment of pleasure free of mundane concerns.
At the age of 13, Hiroshige lost both his parents, and about this time decided to become an Ukiyo-e artist. He first tried, unsuccessfully, to enter the studio of Utagawa Toyokuni, who ranked as one of the two master Ukiyo-e artists of the Utagawa school. In 1811, when Hiroshige was 15, he became an apprentice of the other Utagawa master of the day, Toyohiro. One of the boy's given names was Juemon, but it was a custom for successful apprentices to take the names of their masters. In 1812, Hiroshige adopted "Hiro" from his teacher's name, Toyohiro, and combined it with an alternate reading, Shige, of the first character of his name Juemon. At the age of 17, the young artist published his first work using the art name Utagawa Hiroshige.
For some time after that, he worked as a typical Ukiyo-e artist, creating portraits of beautiful women and actors. In 1831, Hiroshige published a ten-print series, Famous Places of the Eastern Capital (Toto Meisho), a precursor of his subsequent series. In 1833, the Hoeido edition of The Fifty-three Stages of the Tokaido won instant acclaim upon publication and brought Hiroshige fame as a landscape artist.
After this, Hiroshige produced a succession of masterpieces, including The Sixty-nine Stages of the Kisokaido (Kisokaido Rokujukyutsugi) and the Eight Views of Oumi (Oumi Hyakkei). The works, depicted with Hiroshige's typical combination of meticulous detail and lyrical charm, captivated the people of Edo.
In 1856, Hiroshige began publishing One Hundred Famous Views of Edo (Meisho Edo Hyakkei). His distinctive sensibility not only won over the hearts of Edo citizens but also left a deep impression on artists overseas, such as Van Gogh and Monet.
In the summer and autumn of 1858, there was an epidemic of cholera in Edo. Hiroshige contracted the disease and died in September of the same year at the age of 62.