Our unrivalled regional network for your global trade needs
Navigate Asia's trade corridors with MUFG's powerful network and transaction banking solutions.
As international trade becomes increasingly interconnected, having the right partner with the expertise, strong balance sheet, global network and local insights is as crucial as ever.
Asia is a core market for MUFG, and we are committed to supporting corporations across the world navigate Asia's opportunities with confidence.
Bank on MUFG's global network
MUFG has an expanded global network of more than 2,700 locations across 50 markets, offering a full suite of banking services for the entire client spectrum from retail customers to SMEs and large corporates.
Global clients wanting to make inroads in Asia will also gain unrivalled and immediate access to our partner banks' local expertise and service networks, while local companies will find in MUFG a trusted international banking partner that can support their regional or global aspirations.
MUFG's US$14 billion commitment to Asia and unique hybrid collaboration with partners
Over the years, MUFG's strategic partnerships with VietinBank in Vietnam, Bank of Ayudhya (Krungsri) in Thailand, Security Bank Corporation in the Philippines, and Bank Danamon in Indonesia have led to the creation of a powerful network that has served as one of MUFG's core competitive advantages. With this expansive regional network, we empower local and international corporates for success by leveraging MUFG's global footprint and expertise as well as the local insights and experience of our strategic partner banks.
Since 2012, MUFG has invested more than US$14 billion in these regional banks in Asia, creating a distinct advantage in the region. These partner banks are leaders in their respective local banking sectors, with extensive branch networks, comprehensive solutions and strong client relationships.

Our partner bank network in Asia. (Source: MUFG Report 2019)
Region
Partner Bank
MUFG's strategic stake
(as of end Jun 2020)

Vietnam
Vietnam Joint Stock Commercial Bank for Industry and Trade (VietinBank)
www.vietinbank.vn
19.7%
Thailand
Bank of Ayudhya (Krungsri)
www.krungsri.com
76.8%
The Philippines
Security Bank Corporation
www.securitybank.com
20.0%
Indonesia
Bank Danamon Indonesia
www.danamon.co.id
92.47%
Through this hybrid combination of MUFG's global presence and local capabilities, corporates now have access to a comprehensive suite of solutions covering the entire spectrum of their business and financing needs, from supply chain finance & dealer finance, to employee benefits and payment services for direct customers.

MUFG – Your trusted partner for Transaction Banking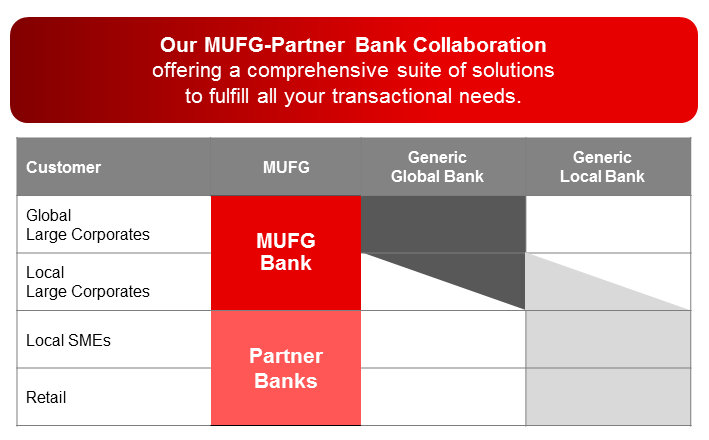 MUFG has the capabilities to meet the transactional needs of global businesses today. Our transaction banking solutions are well-recognized by the market, as exemplified by some of the awards and accolades that we have won in Asia.


MUFG's transaction banking business is managed from offices in Tokyo, Shanghai, Hong Kong, Singapore, Bangkok, London, New York, and Los Angeles. We also have dedicated in-country teams that combine specialized product expertise and local market insights to develop the best possible solutions to support your goals.
The Real Deal – A showcase of successful client collaborations
A leading Australian cement manufacturer has a large distribution network domestically with an extensive supplier network in Asia. MUFG's supply chain finance program helped the company fulfil its working capital targets and improve supplier relations.
Leveraging MUFG's strong Asian footprint and in-country expertise, we were able to efficiently on-board suppliers across the region. This entails facilitating local language translations and supplier interactions. We also adapted and integrated our technology platform with the client's so that invoices can be sent digitally to us for processing, and we can deal directly with suppliers for invoice discounting.
One of India's leading pharmaceutical companies is a manufacturer and supplier of active ingredients; hence its account receivables are significant. Based on our understanding of the pharmaceutical industry in India and other major markets, we introduced the company to a Non-Recourse Accounts Receivable Purchase Scheme. As there is no active credit insurance market in India for receivables purchased by banks currently, MUFG wholly underwrote the credit risk of the obligors, despite multiple parties being located in different regions across India.
In Indonesia, MUFG has a longstanding presence and a strong relationship portfolio comprising Japanese and multinational corporates. Bank Danamon, of which MUFG has a 94.1% stake, is a major Indonesian bank with a well-established distributor financing program and a strong foothold in the commercial and SME business sectors. MUFG connected Bank Danamon to the local subsidiaries of a leading European automotive manufacturer, whereby the local bank established a dealer financing program for these subsidiaries. With this program, dealer partners of the local subsidiaries will be able to access financing from Bank Danamon. This deal underscored our ability to leverage MUFG's global network.

MUFG implemented a supply chain finance solution for a leading Japanese electronics manufacturer, which has many supplier partners throughout Vietnam. The solution allowed the suppliers to access an alternative source of funding by leveraging our client's financial strength. Notwithstanding the cross-border nature of the transactions, MUFG was able to execute large transactional volumes across time zones through our deep understanding of local regulations (such as Vietnam's local Factoring Act) and local language requirements.
MUFG – your trusted partner in global trade
With our footprint and comprehensive suite of transaction banking products, MUFG is in a unique position to support you in your global business flows. We are committed to being the world's most trusted financial group and hope to be a strong global partner of your business.

We welcome all enquiries; contact us here.