MUFG – Your Gateway to Success in Asia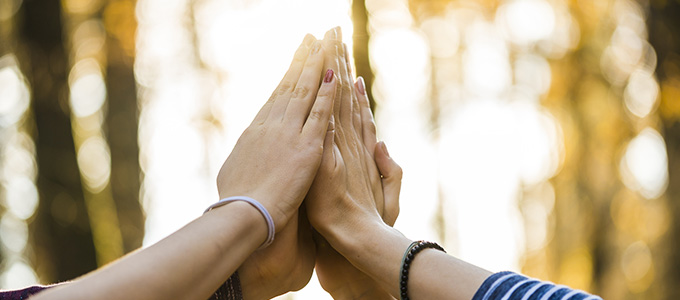 Much has been discussed about Asia's growth potential. While the region comprises different economies at various stages of development, all carry great potential to contribute to the global economy. Having undergone significant changes and growth in consumption, global trade flows, capital, talent, and innovation over the past 30 years, Asia is poised to dramatically influence the direction and landscape of the global economy.
Asia is a core market for MUFG. Over the years, MUFG has entered strategic partnerships with leading local banks in Vietnam, Thailand, the Philippines, and Indonesia. This has led to the creation of an unrivalled network that empowers local and international corporates in Asia by helping them leverage MUFG's global reach and our partner banks' local capabilities.
Asia has a strong growth story
Asia is expected to be a major contributor to the world's gross domestic product (GDP). Its improved purchasing power parity, standard of living, and affluence are comparable to many of its counterparts in the western world. According to the Asian Development Bank, 52% of the world's GDP is expected to come from Asia by 2050.
The International Monetary Fund has also reported in its "World Economic Outlook July 2019" that emerging and developing Asia is expected to grow at 6.2% and 6.0% in 2019 and 2020. This is higher than the 3.2% and 3.5% global growth forecast for the same period.
Asia has strong demographics
More than half of the world's population lives in Asia. At a median age of slightly over 30 years, they are also one of the world's youngest. Such favourable demographics will contribute to the region's collective growth over the longer term.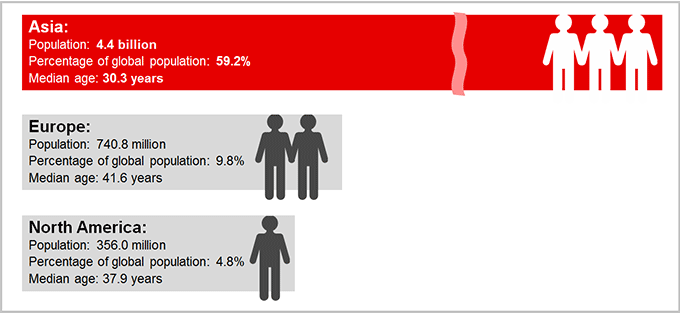 Source: the United Nations Department of Economic & Social Affairs (DESA) Population Division.
ASEAN – Asia's powerhouse for growth
In Asia, a powerhouse for growth comes in the form of the Association of Southeast Asian Nations (ASEAN). ASEAN comprises Brunei, Cambodia, Indonesia, Laos, Malaysia, Myanmar, the Philippines, Singapore, Thailand, and Vietnam. This regional collective – in particular its emerging markets – has one of the youngest working populations and a burgeoning middle class with greater purchasing power than ever before. According to the "Economic Outlook for Southeast Asia, China and India 2019" report by the Organization for Economic Co-Operation and Development, ASEAN's GDP is projected to grow at 5.2% for the next five years, powered by its 840-million strong population.
Our US$14 billion investment and unique hybrid collaboration
Since 2012, MUFG has invested more than US$14 billion in four strategic regional banks in ASEAN, creating a distinct MUFG advantage in this region. These partner banks are: VietinBank in Vietnam; Bank of Ayudhya or Krungsri in Thailand, Security Bank Corporation in the Philippines, and Bank Danamon in Indonesia. The partner banks are leaders in their respective local banking sectors, with extensive branch networks, comprehensive solutions and strong client networks.

Our partner bank network in Asia. (Source: MUFG Report 2019)
| Region | Partner Bank | MUFG's strategic stake | Country ranking |
| --- | --- | --- | --- |
| Vietnam | Vietnam Joint Stock Commercial Bank for Industry and Trade (VietinBank) | 19.7% | 2 |
| Thailand | Bank of Ayudhya (Krungsri) | 76.8% | 5 |
| The Philippines | Security Bank Corporation | 20.0% | 7 |
| Indonesia | Bank Danamon Indonesia | 94.1% | 5 |
Together with our partner banks, MUFG now has an expanded network of more than 3,000 offices and branches in Asia offering a full suite of banking services catering to the entire client spectrum from retail customers to SMEs and large corporates. Global clients wanting to make inroads in Asia will gain unrivalled and immediate access to our partner banks' local expertise and service networks, while local companies will find in MUFG a trusted international banking partner that can support their regional or global aspirations.
Through this hybrid combination of MUFG's global network and our partner banks' local capabilities, corporates now have access to a comprehensive suite of solutions covering the entire spectrum of their business and financing needs, from supply chain finance & dealer finance, to employee benefits and services to direct customers.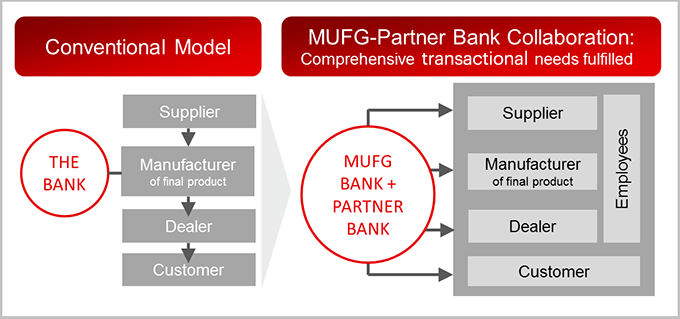 Source: MUFG Report 2019
Takayoshi Futae, Head of MUFG's Global Commercial Banking Business Group and Chief Operating Officer-International, reflected on the bank's partnership network: "We create 'new trust' by providing new value to customers through collaboration with partner banks. Together, we will be able to provide banking services for SMEs and individuals in overseas markets that we have not been able to provide until now. At the same time, by combining this platform with MUFG's business with large global corporates, we can deliver MUFG's unique services."
MUFG will continue to foster greater collaboration among its partner bank network, share best practices and improve its suite of high-value-added services. MUFG's unrivalled network, with its hybrid combination of global strengths and local capabilities will ensure that clients seeking business opportunities in Asia will be in good hands.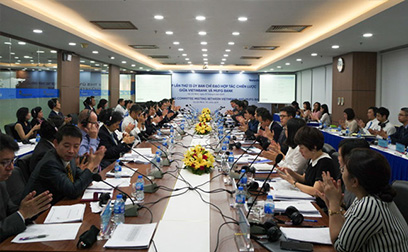 The 13th annual Steering Committee for Strategic Cooperation between MUFG Bank and VietinBank, held on 7 June 2019. (photo credit: VietinBank)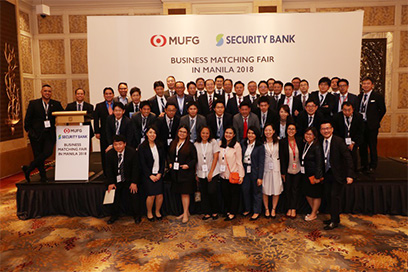 Global corporates exploring new business opportunities are invited to business-matching fairs organized by MUFG and its partner banks (such as Security Bank, from 2018) to network and meet with potential partners.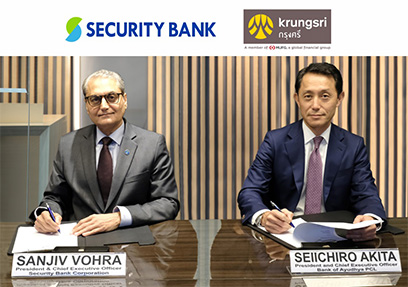 Krungsri and Security Bank announced a strategic alliance on 9 August 2019 to penetrate the consumer banking market. This partnership started with Krungsri's entry into the Philippines and its 50% investment in SB Finance, a subsidiary of Security Bank. The agreement was signed by Seiichiro Akita, President & CEO of Krungsri, and Sanjiv Vohra, President & CEO of Security Bank. (photo credit: Security Bank)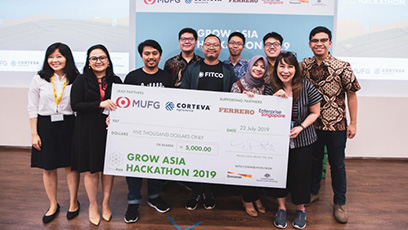 Start-ups from Singapore and Indonesia presented their pitches at this year's Grow Asia Hackathon on 22 July 2019. These ideas would bring data-driven solutions to small-hold farmers in Asia. MUFG is one of the lead partners and Bank Danamon was one of the judges for the pitches in Indonesia.