Celebrating our commitment to Indonesia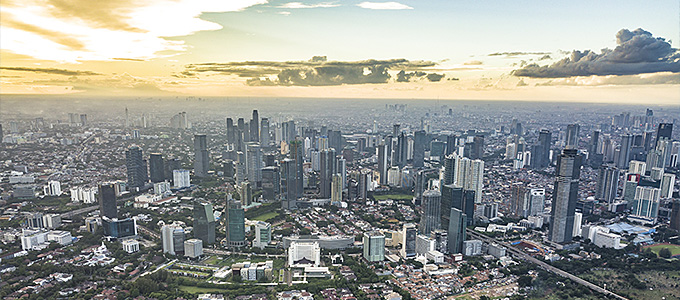 2018 is shaping up to be quite an eventful year for MUFG Bank in Indonesia. The bank recently commemorated the 50th anniversary of its branch presence in Jakarta with a series of celebrations for staff, clients, media and the community.
Indonesia – a key market for MUFG's Asia network
With a stable economic growth rate of around 5% year-on-year and a strong commitment by its government to accelerate infrastructure development and foreign investment, Indonesia has proven itself to be one of the most attractive business destinations for companies wishing to make inroads into Southeast Asia. In fact, it is regarded as one of the top five investment destinations for Japanese companies, according to a JBIC survey.*
Its population of 260 million is also the largest and one of the youngest in ASEAN, making it a market of tremendous potential for industries ranging from consumer goods to financial services.
Introducing MUFG – a long-term partner to Indonesia's future
MUFG, whose roots in Asia dates back to over a hundred years ago to its predecessor the Yokohama Specie Bank, is certainly no stranger to Indonesia's long-term potential. The bank opened its first representative office in the country in 1918. It then established a full-fledged branch in Jakarta in 1968, the second Asian bank and seventh foreign bank to do so in the country at that time.
MUFG's Jakarta branch has since grown from strength to strength to become one of the foremost revenue contributors in its Asian network. As of June 30 2018, the branch has total assets of IDR 167.8 trillion and IDR 1.71 trillion in year-to-date net profit, making it not only the largest foreign bank branch in the country but a leading player compared to other local banks as well.
Jakarta branch is part of a service network in Indonesia that employs 600 staff and includes a sub branch in Surabaya and nine service points in key industrial locations. Its client portfolio comprises of a mix of Japanese, local companies and MNCs.
It has actively participated in major syndications involving large Japanese corporates and state-owned enterprises, which include deals for MPM Finance in support of its consumer credit business and for strategic infrastructure projects like the first major intercity toll road in Kalimantan island and the Light Rail Transit (LRT) project in Palembang.
And with MUFG striking a strategic alliance with Bank Danamon (BDI), Indonesia's fifth most profitable bank and eighth largest local commercial bank by assets, the potential for business collaboration is limitless, and Jakarta branch can leverage this important relationship to make further inroads into the local market via the retail and SME segments.
Further testament to MUFG's growing stature in the country, Asiamoney awarded it "Best International Bank" in Indonesia at its annual Best Bank Awards event in September 2018. It also received acclaim for excellence in supply chain solutions from industry publications such as The Asset and Global Finance.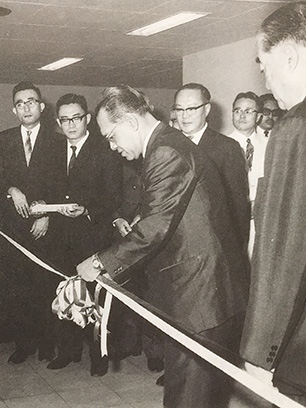 Coordinating. Minister for Economy, Finance and Industry Hamengkubuwana IX inaugurating Bank of Tokyo's branch office on August 28, 1968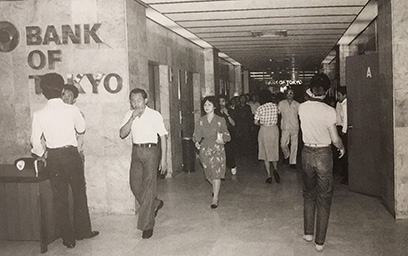 Bank of Tokyo's Jakarta Branch at Wisma Nusantara.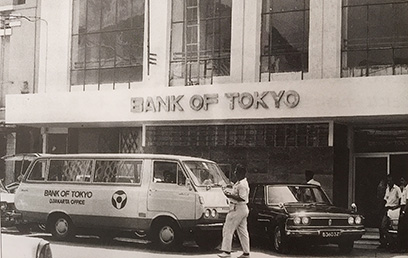 One of the bank's service points at the Kota district in Jakarta
Culminating an eventful year for MUFG in Indonesia – 50th anniversary of Jakarta branch
To commemorate the milestone year, the branch held a staff event and produced a commemorative digital magazine tracing the bank's history which was shared with all staff.
An evening reception that was also hosted by MUFG senior executives saw more than 500 clients from Indonesia's top companies attend. The celebratory event was graced by luminaries that included the Ambassador of Japan to Indonesia, Masafumi Ishii and the Minister of Land Affairs and Spatial Planning, Sofyan Djalil.
Not forgetting the unfortunate communities that were affected by the recent natural disasters that struck Lombok and Central Sulawesi just weeks before the celebrations, the branch and staff made donations to help those impacted in the catastrophes.
And with Indonesia's growth journey picking up pace, it can be assured of MUFG's ongoing support and commitment – for the next 50 years and more!
MUFG Bank President and CEO Kanetsugu Mike summed it up nicely at the 50th anniversary client reception with his thank-you speech to clients: "This year is also the 60th anniversary of Japan-Indonesia relations, and MUFG, through its Jakarta branch, has proactively facilitated Japanese investment and business flows into the country. It has been a long and wonderful journey of growth for MUFG in Indonesia, and our progress would not have been possible without the support of all of our friends in this room. We are sincerely and humbly grateful to all of you."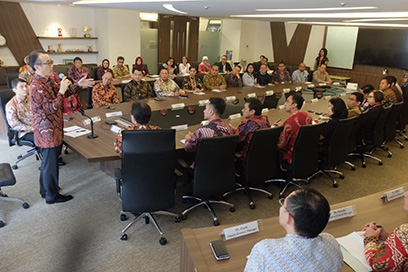 On the day of the anniversary celebrations, MUFG Bank CEO & President, Kanetsugu Mike met with some 30 colleagues from Jakarta branch and had a lively dialogue session with them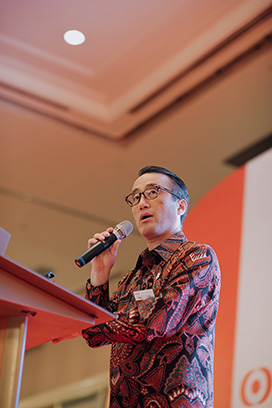 To commemorate Jakarta Branch's 50th anniversary, a client reception was held on October 15 and attended by more than 500 customers from major corporations in Indonesia. The event was also graced by Ambassador of Japan to Indonesia, Masafumi Ishii and Minister of Land Affairs and Spatial Planning, Sofyan Djalil, as well as senior management from MUFG Bank.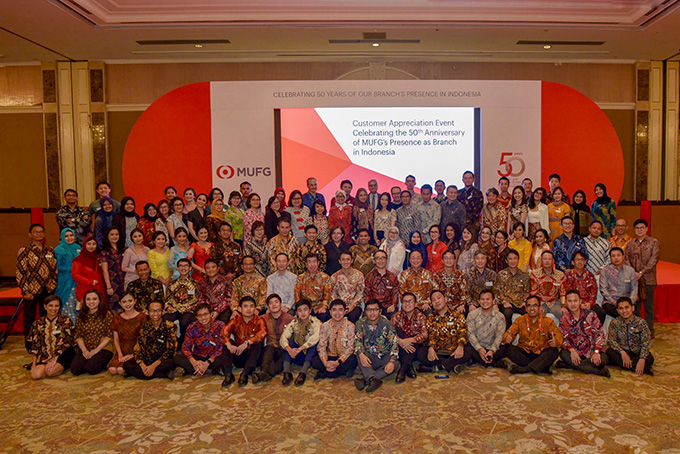 The 50th gala reception culminated with a celebration for all staff involved in the extensive planning, coordination and execution of the anniversary. Congratulations, everyone, for a job well done!
*

Outlook for Japanese Foreign Direct Investment (29th Annual Survey)- November 2017, Japan Bank for International Cooperation