MUFG's strategic partnership with Security Bank Corporation in the Philippines goes into full bloom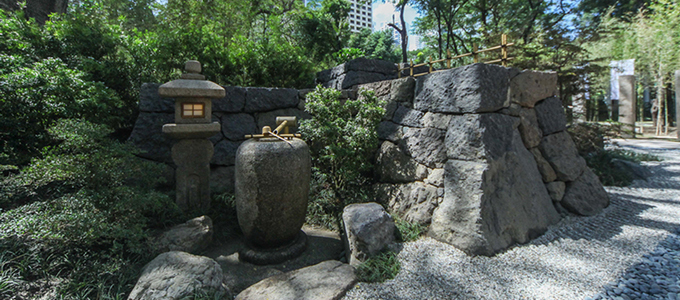 In the dynamic and fast-paced region that is Asia & Oceania, the Philippines stands out as one of its key engines of growth. It is also a market of longstanding importance to MUFG, and the bank has deepened its roots in the Philippines with a strategic partnership that promises to foster greater growth and development within the country.
A perfect match
It was a union that made perfect sense, and one year into the partnership, MUFG and Security Bank Corporation (SBC) are as committed as ever to working together to make a difference in Asia.
With a presence in the Philippines of over 100 years, MUFG announced the partnership with SBC, one of the five largest domestic universal banks in the country, on January 14, 2016. MUFG's stake of 20% into SBC was formalised in April.
The alliance not only played to the strengths of both banks, but brought two like-minded institutions together; both shared a commitment to service excellence and an aspiration to be best-in-class in the region. MUFG was able to leverage SBC's local insights and network to gain a firmer foothold in one of the key markets in Asia, while SBC was able to better serve the cross-border requirements of customers through MUFG's global franchise and expertise. MUFG's strength in project finance also meant that it could pay a bigger role in the country's infrastructure development – long flagged as an area of priority by the Philippine government.
The strategic tie-up also served as a platform for supporting the blossoming bilateral ties between Japan and the Philippines.
With the foundation in place for further collaboration between both banks, MUFG hosted a Philippines economic seminar in the cities of Nagoya, Osaka and Tokyo in December 2016 to discuss the country's economic prospects with Japanese clients. Over 200 Japanese medium-to-large-sized corporates attended, and senior Filipino officials from the Department of Trade and Industry (DTI) and the Philippine Economic Zone Authority (PEZA) were on hand to share further details about the country's business opportunities. Feedback for the session was positive, with close to 50 participants expressing interest in moving to the next stage of discussions with the relevant parties to invest in the Philippines.
Business Matching - Helping customers find the right partner
On February 22, 2017, MUFG and SBC also co-hosted their first-ever business matching fair in downtown Manila.
A common practice by banks in Japan, where domestic clients are introduced to each other as a value-added, generally free-of-charge service, MUFG has taken the "matchmaking" concept to the next level by connecting its Japanese clients with companies in key markets in Asia. The bank has held 15 such fairs to date in cities such as Kyoto, Shanghai, Yangon, Jakarta, Bangkok, Singapore and now in Manila. To date, close to 2,500 meetings have been set up in these sessions.
For the business matching in Manila, close to 200 closed-door meetings were arranged between Japanese, Philippine and Southeast Asian corporate clients of MUFG and SBC. The companies hail from a variety of industries from consumer goods to real estate and are matched based on their industry or business needs.
The networking event drew positive feedback from clients and culminated with a cocktail reception. In attendance were VIPs such as the Secretary of Trade & Industry Ramon Lopez, PEZA Director General Charito Booc Plaza and the Minister for Economic Affairs of the Embassy of Japan Makoto Iyori.
Rooting our legacy with the Tsuruki En Garden
In an effort to commemorate the enduring friendship between Japan and the Philippines, MUFG and SBC have also worked together to bring a slice of Japanese culture into Manila.
The banks jointly sponsored the construction of the Tsuruki En Garden, a Japanese garden located in the Makati business district in downtown Manila. An initiative spearheaded by pre-eminent Filipino businessman Washington Sycip, the garden was opened with much fanfare in February 2017.
Inspired by the architecture and culture of historical Japan and named after the crane and turtle in Japanese, the garden serves as a fitting tribute to the strong ties between Japan and Philippines as well as an enduring symbol of the MUFG-SBC partnership.
Meticulous attention was paid to ensuring its authenticity and cultural flavour, with some of the materials for the garden shipped in from Japan while others were sourced locally to symbolise the Japan-Philippines partnership. A team of landscape architects from Kyoto's Sankakuya Inc. was also commissioned to build the garden so as to more accurately replicate the majesty and beauty of the Edo period.
The launch ceremony saw over 100 of the country's business elite in attendance, with officiating duties facilitated by the Japanese Ambassador His Excellency Kazuhide Ishikawa, Mr. Washington Sycip, Ayala Group Chairman and CEO Jaime Augusto Zobel De Ayala, MUFG CEO for Asia & Oceania region Mr. Takayoshi Futae, SBC's Chairman Emeritus Mr. Frederick Dy and Chairman Alberto Villarosa, amongst others.
Indeed, the business matching and the Japanese garden are reaffirmations of the successful matching between MUFG and SBC. As the two commemorate their first year of partnership, there is no doubt that further success awaits.
MUFG's Mr. Futae, also a Board Member of SBC, said: "Since establishing a partnership with SBC last April, we have engaged in many successful projects, conducting a variety of business including local retail lending for staff in Japanese companies and providing services to Philippine companies in trade and other sectors.
"I feel energised and excited whenever I meet with the management of SBC because we always come up with a long list of action items which we can collaborate on. I am truly appreciative of their determination and passion to working together, and with their support, I am sure MUFG can continue to make a difference in the Philippines as well as in Asia."
Photos:
1) Business Matching

Senior management from MUFG and SBC at a briefing with the Philippine media at the sidelines of the business matching event.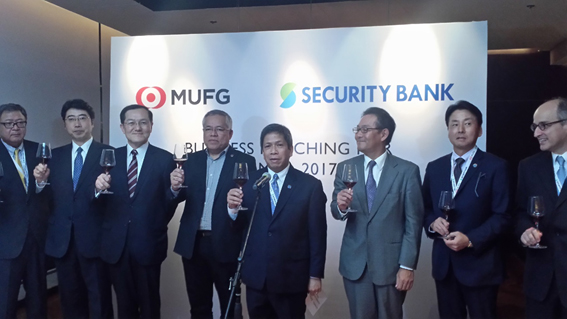 MUFG and SBC management making a toast after a successful day of business matching. Joining us at the cocktail reception were the Philippine Secretary of Trade and Industry Ramon Lopez (fourth from left) and Minister for Economic Affairs of the Embassy of Japan Makoto Iyori (third from right).
2) Tsuruki En Garden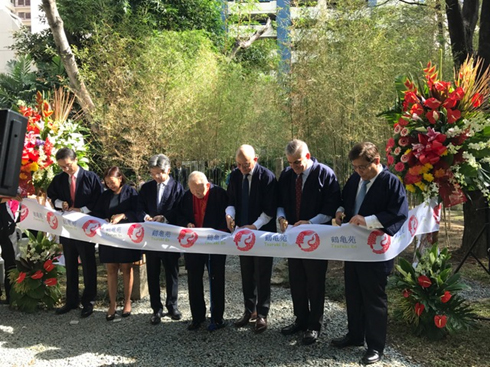 The ribbon-cutting ceremony was led by His Excellency Ambassador Kazuhide Ishikawa, Ambassador of Japan to the Philippines (third from left). Others in the ceremony are (from left to right): CEO for the MUFG Asia and Oceania region Takayoshi Futae; Makati City Mayor Abigail Binay; HE Kasuhide; Mr. Washington Sycip; Chairman Emeritus of SBC Frederick Dy; Ayala Group Chairman and Chief Executive Officer Jaime Augusto Zobel De Ayala and SBC Chairman Alberto Villarosa.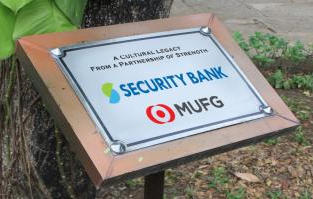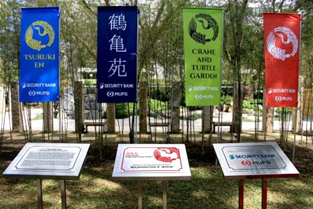 Markers were unveiled to commemorate the partnership of the sponsors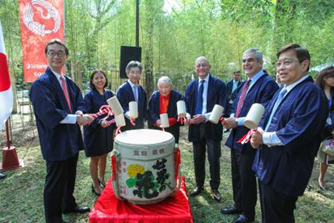 A spirited sake-breaking ceremony rounded off a memorable launch event.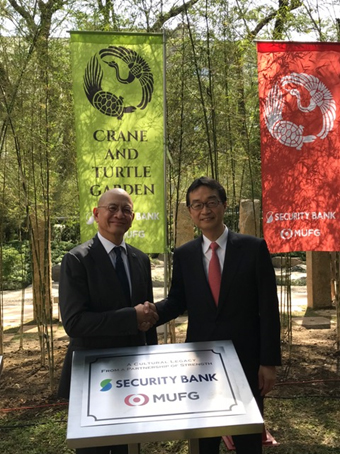 Marking another successful collaboration between MUFG and SBC.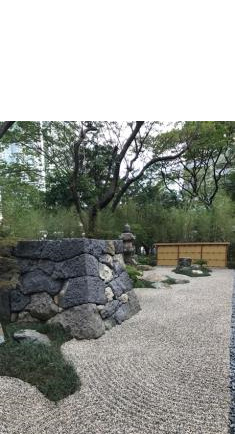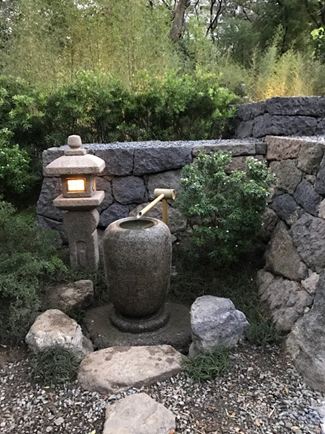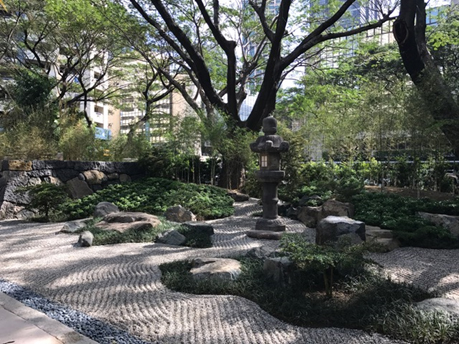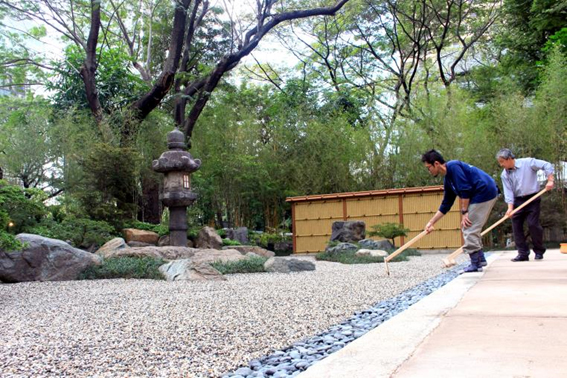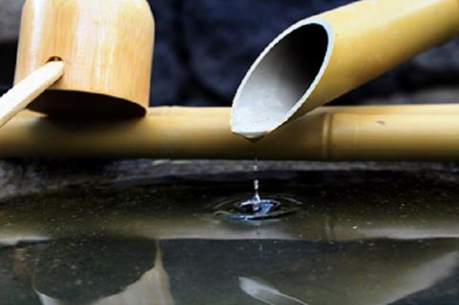 The Tsuruki En Garden promises to be a sanctuary from your worldly worries and a haven of peace and harmony. Modelled after the architecture of the Edo Period (1603 - 1867), it is located within the Washington Sycip Park in downtown Makati. The Washington Sycip Park was created and presented to the pre-eminent businessman in June 2006 to celebrate his 85th birthday and recognise his outstanding contributions to the Philippine business community.