MUFG - Embracing innovation for change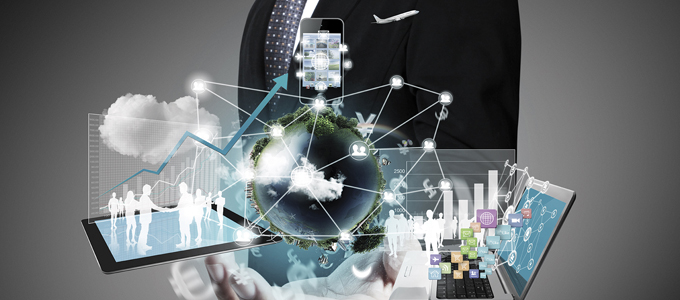 The digital revolution has arrived - and woe to any company that is caught unprepared in its wake.
Financial institutions (FIs) worldwide are testing out cutting-edge technology to better interact with customers and provide more efficient and intuitive services. They are harnessing everything from big data to AI to better understand client behaviour and investing in digitalisation and new technology to make their operations faster, smoother and cheaper.
They have had to innovate quickly or lag behind changing consumer trends such as the rise of online and mobile banking. Worse, they risk being displaced by start-ups specialising in financial technology or "FinTech" and offering products and services traditionally offered by FIs.
First conceived in tech hubs like Silicon Valley but now present everywhere from Europe to China, such start-ups now amount to more than 12,000 worldwide, according to a recent estimate by McKinsey & Company. And such "digital attackers", according to McKinsey in its global banking annual review in 2015, will pose a real threat, particularly in consumer and retail banking.
As Japan's foremost bank and a global financial leader, MUFG has long been a proponent of innovation; its latest five-year, medium-term business plan launched in 2015 hinged on the importance of evolution and reform in generating long-term, sustainable growth. A key plank of this plan is the deployment of an information and communications technology (ICT) strategy that fully embraces open innovation to deliver superior business solutions and customer service.
MUFG's innovation journey so far
One of the earliest and most notable milestones of MUFG's innovation efforts is Jibun Bank, a joint venture between Japanese telco KDDI and the financial group's banking arm, Bank of Tokyo-Mitsubishi UFJ (BTMU), in 2008, to capture the mobile phone generation. It is now one of the largest and most profitable mobile banks in Japan.
In 2014, MUFG opened its first innovation centre in Silicon Valley in San Francisco. Two years later, an office in New York was set up to incubate ideas and apprise the group of the latest trends. Plans are also underway for another innovation centre in Asia.
In May 2015, MUFG formed a dedicated Digital Innovation Division to spearhead and oversee innovation across the group. Under its auspices, the MUFG Innovation Lab was set up in Tokyo in Jan 2016. It was an autonomous unit tasked with experimenting with FinTech and innovative business solutions.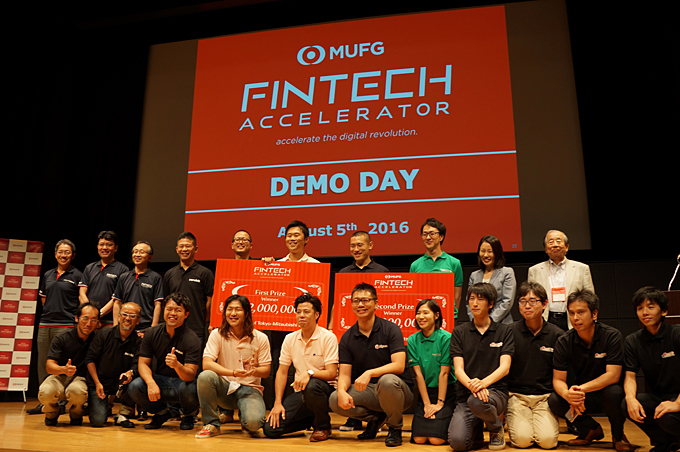 The demonstration day for the MUFG FinTech Accelerator Programme, wherein participating companies were invited to showcase ideas and new technologies that can drive the banking sector forward.
The financial group also joined the R3 consortium in Sep 2015. R3 is an international partnership comprising 42 major financial institutions aimed at improving financial services through blockchain technology.
Events aimed at engaging start-ups, such as the FinTech Challenge 2015, a "Bring your own Bank" hackathon in 2016 and the MUFG FinTech Accelerator programme in 2016, were organised, the latter of which is an incubation programme for companies with outstanding business ideas and technologies for the financial services sector.
Winning collaborations from the above include working with Zuu Online, an online business information portal to provide financial content on our MUFG website and Finatext, a mobile content development firm that has created a "Fundect" smartphone app that helps beginner investors select investment funds. We have also collaborated with start-ups from the accelerator programme on projects from investment seminars to reward programmes utilising blockchain.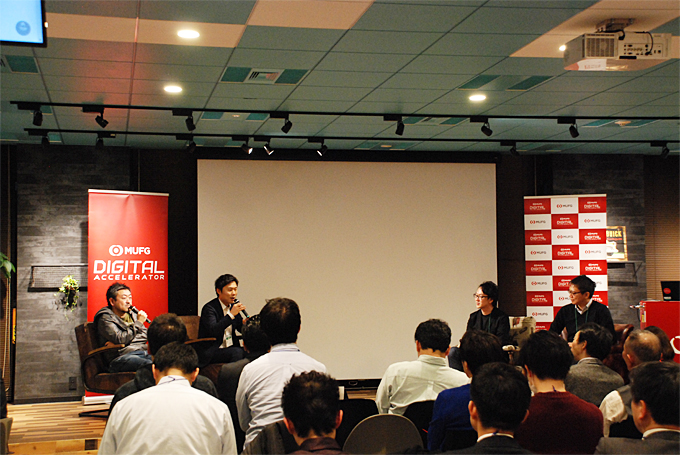 MUFG has been an active proponent of incubation programmes that bring the best and brightest from the tech and start-up communities together to develop innovative business solutions. Pictured here is another one of these digital accelerator sessions held in Tokyo.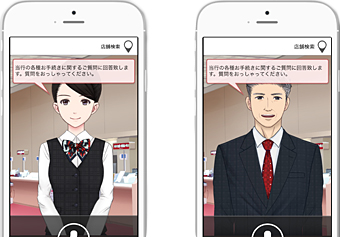 You have heard of Siri, but have you met MAI and MAIQ? They are MUFG virtual assistants that are part of a smartphone app dedicated to answering basic service questions.
MUFG's venture capital arm has also invested in promising start-ups such as WealthNavi, a Japanese firm that is developing a smartphone app encouraging Millennials to save and invest their spare change while making digital payments.
And in another first for MUFG, we introduced robots into the workforce with the pilot of the MUFG Nao robot in our branch offices in 2015 to interact with customers.
Other retail applications that we have rolled out include smartphone apps that answer basic service questions ("Mai - Virtual Agent"), is integrated with AI (Line Messenger app) and allows for the opening of customer accounts without stepping into a branch (MUFG Smart Account Opening App).
As for blockchain, the technology underpinning not just the bitcoin virtual currency but most efforts around FinTech, it is being actively tested by MUFG for its potential applications. In USA, we signed an agreement with blockchain startup Chain in 2016 that will see the two working on a Proof-Of-Concept (POC) around the exchange of promissory notes. We also invested in San Francisco-based Coinbase Global in July 2016 to further explore blockchain's financial applications, while in Japan, we are also participating in various blockchain projects to challenge the frontiers of financial infrastructure.
Taking innovation into the heart of Asia: supporting Singapore's Smart Nation aspirations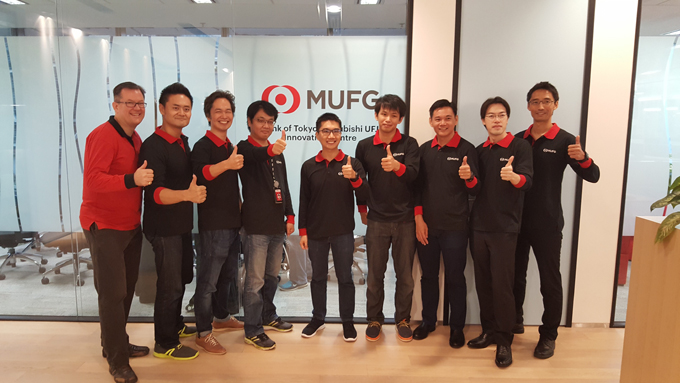 Our Asian Systems Office team giving the thumbs-up after hosting more than 120 visitors to the MUFG innovation centre at the Singapore FinTech Festival.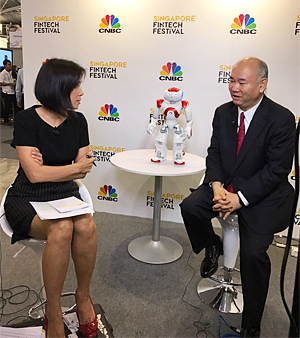 Makoto Shibata, Global Head of the Global Innovation Team and Principal Analyst of the Digital Innovation Division, sat with broadcast media to talk about MUFG's FinTech developments in the Asia Pacific and learnings for Singapore as its scales up its digital innovation efforts.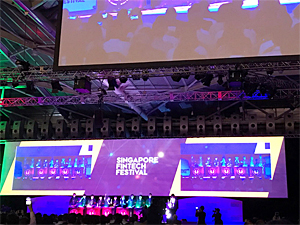 The opening of the Singapore FinTech Festival. The event drew over 11,000 visitors from around the world to explore the latest trends in innovation and digital technology in the financial services sector.
Singapore has long made known its ambitions of becoming a Smart Nation and is now ranked highly alongside cities like London, New York and Silicon Valley for its FinTech aspirations. And just as MUFG has set up offices in the likes of New York and Tokyo to encourage innovation, it is playing an active role in Singapore's digital journey; being the headquarters for our Asia Oceania operations, the country is an ideal location to test out FinTech's commercial applications for MUFG clients in the region.
In Aug 2016, BTMU announced a POC with Hitachi to digitalise cheque issuance in Singapore using blockchain. It is also working with IBM to test out the management of contracts using blockchain and will also be one of eight financial institutions participating in a pilot project using similar technology for interbank payments.
Our record for innovation has certainly been welcomed by the Monetary Authority of Singapore (MAS), which requested us for support to promote Singapore's plans at a FinTech Summit in Tokyo organised by Japan's Financial Services Authority and Nikkei in September. MUFG was also a key sponsor at the inaugural Singapore FinTech Festival in November, where it showcased its latest innovation initiatives to more than 11,000 delegates from around the world.
The bank is also actively involved in initiatives spearheaded by MAS and the Association of Banks in Singapore (ABS) on areas from cyber security to online trade payments.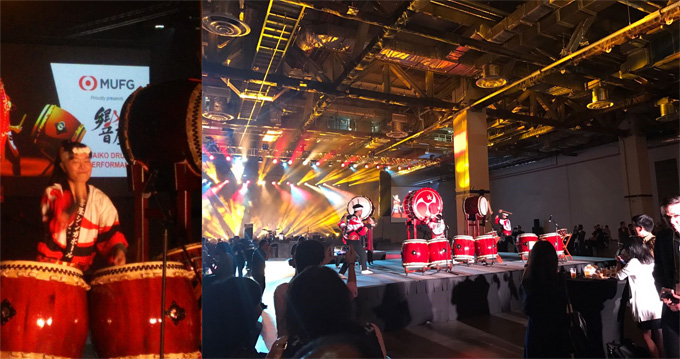 A rousing finale to the Singapore FinTech Festival, where participants were presented to a Taiko drum performance at the closing party. The traditional performance was sponsored by MUFG.
MUFG - embracing innovation for the future
In an interview with the Financial Times in September, Nobuyuki Hirano, President & Group CEO of MUFG, emphasised the importance of technology and innovation in transforming society and industry. Indeed, MUFG's embrace of innovation and the digital revolution may very well be the game changer that brings it closer to being world's most trusted financial group.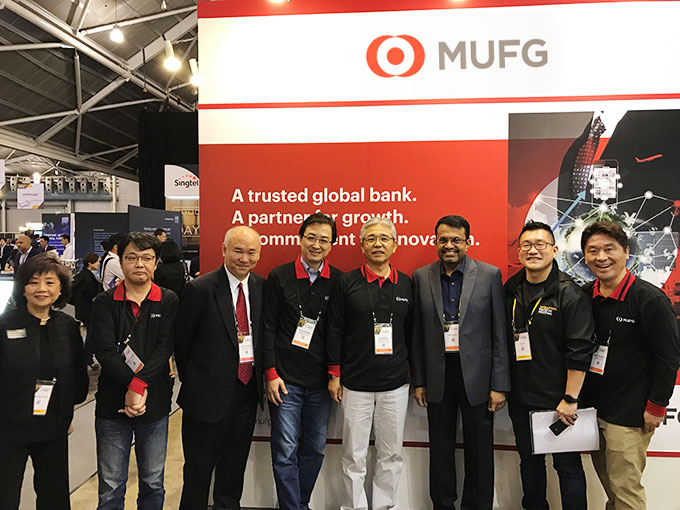 Senior executives from MUFG and Ravi Menon, Managing Director of Monetary Authority of Singapore (third from right) at the Singapore FinTech Festival.