MUFG Gives Back around the world
MUFG Gives Back is our global volunteer initiative that mobilizes colleagues across the globe to join forces and give back to their local communities. In November 2014, more than 5,000 volunteers took part in more than 100 activities in 30 countries and offices. We not only expanded our community relationships, we also built a sense of community with one another. Each region organized volunteering activities that helped to support the education of youths, protect the environment, or give back in other ways. Check out just a few of the activities below.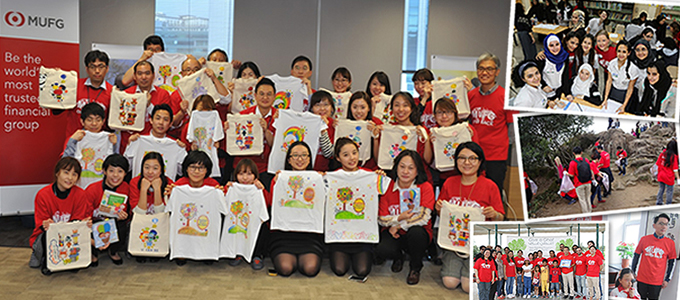 Poland: Enterprising EMEA [Bank of Tokyo-Mitsubishi UFJ (Polska)]
As part of the EMEA-wide programme with Junior Achievement Young Enterprise (JA-YE), the Bank of Tokyo-Mitsubishi UFJ (Polska) led business-focused seminars with three local secondary schools. Some 28 employees got involved in preparing the presentations, which five employees delivered, on the role of banks in the economy, including their role as employers within a modern society. The seminars reached more than 100 students in the Warsaw area, broadening their knowledge of the finance sector. MUFG Gives Back 2014 saw branches in Warsaw, London, Moscow, Amsterdam, Dubai, Paris, and Istanbul all collaborating with JA-YE, sharing their business skills with disadvantaged students in their cities.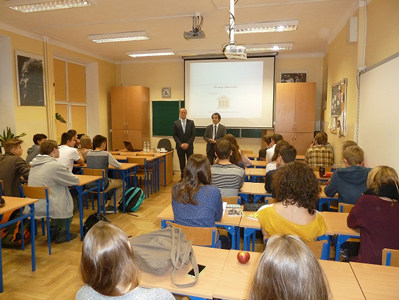 Argentina: TECHO [Buenos Aires Branch]
Volunteers from the Buenos Aires Branch worked with TECHO to help build a transitional house over two days for a family living in poverty. TECHO is a youth-led organization working in Latin America and the Caribbean whose mission is to eradicate poverty by providing services to families facing extreme deprivation.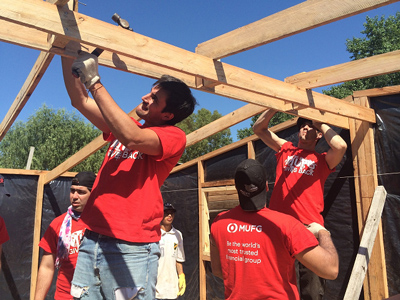 Philippines: Engaging kids in cultural exchange, money-saving tips [Manila Branch]
The Manila Branch engaged with about 390 students at Makati Elementary School in a financial literacy campaign. In addition to imparting tips on saving, BTMU volunteers conducted short classes on the importance of preserving the environment, the basics of banking, and an introduction to Japanese language and culture. Students were given a plain but colorful piggy bank to name and decorate as they wished. To encourage the students to save, staff donated fifty 1-peso coins (slightly over US$1) for every piggy bank. A separate group of volunteers wrapped the school's library books to protect them from further damage, and computers were donated to facilitate e-learning for the students.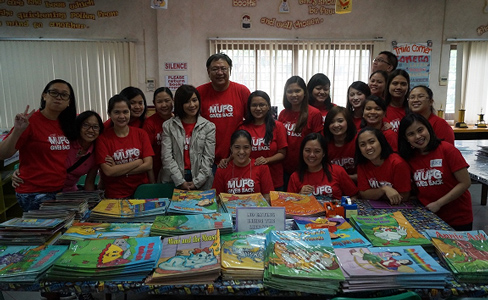 China: Charity walk with underprivileged children [Bank of Tokyo-Mitsubishi UFJ (China), Wuxi Branch]
With a local public organization, the Wuxi Branch co-sponsored, co-planned, and participated in an event called "The big hand leads the little hand" (literal translation), in which employees accompanied a number of migrant children from underprivileged backgrounds on a five-kilometer walk. After the walk, the children were given books and stationery that had been donated to the event. These activities both provided the children with care and support and raised awareness among employees of the importance of volunteering.