Next Generation Leaders Program for Asia and the Pacific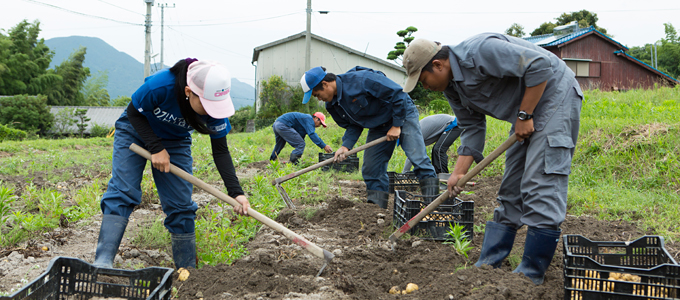 Overview
Agricultural stewardship can be a key differentiating factor in environmental sustainability, especially when combined with leadership development. Since Fiscal Year 2008, Mitsubishi UFJ Financial Group, Inc. (MUFG) and a public interest incorporated foundation, the Organization for Industrial, Spiritual and Cultural Advancement - International, Japan (OISCA), have jointly conducted the Next Generation Leaders Program for Asia and the Pacific. Established in 1961, OISCA operates on the principle that the fundamental solution to environmental and poverty-related issues is to create skilled agricultural practitioners with a holistic understanding of how farming, ecology, and community are interconnected.
Every year in April, the program brings about 10 youths from developing countries in the Asia-Pacific region to OISCA's training center in Fukuoka City, Fukuoka Prefecture. Trainees from diverse nationalities, languages, religions, and other backgrounds live together at the center, where they learn to build the management expertise to be future leaders and foster a spirit of self-reliance while learning sustainable agricultural techniques.
During the project, MUFG offers hands-on activities, providing a forum for trainees to interact with MUFG volunteers including those of The Bank of Tokyo-Mitsubishi UFJ, Ltd.
Program Details
In Fiscal Year 2014, 10 trainees have come to Japan from India, Indonesia, Cambodia, Thailand, Pakistan, Bangladesh, the Philippines, Malaysia, Myanmar, and Mongolia and are now undergoing training. Below is the overview of their training curriculum.
Schedule
Curriculum
Summary
Apr. 2014
Orientation
Introduction to the project
Apr. 2014
|
Jun.2014
Basic training
Acquire basic Japanese language skills and knowledge of Japanese culture, global farming practices, regional development in the farming community, philosophy/ significance/current state of international cooperation
Jun. 2014
|
Feb.2015
Practical/technical training
Learn about organic rice farming, growth and yield assessment, soil preparation, pest control, fundamental principles of farming, enhancement of management skills
Mar. 2015
Training report/performance assessment meeting, leave Japan
Presentation of project results
During the training, participants initially experience a bit of culture shock. Since not all of them can speak either English or Japanese, communicating with one another is difficult at first. In order to improve their communication skills, trainees first go through basic training focused in Japanese and use Japanese as the common language at the training center. The center provides Japanese food and Japanese-style tatami rooms, so trainees experience Japanese culture firsthand.
After mastering basic Japanese, trainees move on to practical training in eco-friendly organic farming. Technical training starts with lessons on an essential aspect of organic farming — how to make bokashi fertilizer and compost, which consists of fermented organic matter — and proceeds to the maintenance of farming machinery and how to grow crops appropriate for the climate and soil of the trainees' home countries.
The project also provides management training to enable participants to become leaders after returning home to their respective countries and to pass on organic farming techniques to local residents and the next generation.
At the end of the training, all participants present their achievements in the projects they undertook during the year.
Scenes from Fiscal Year 2014 Training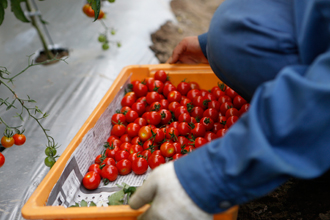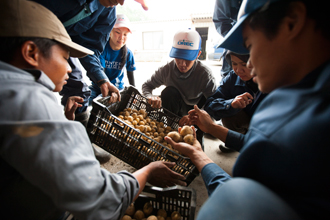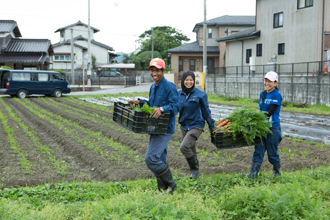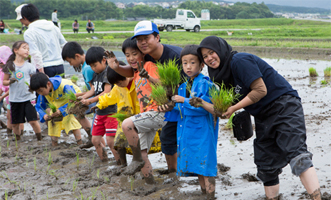 Comments from Fiscal Year 2014 Trainees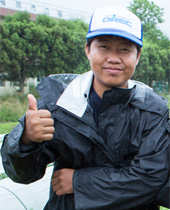 Mr. Myo Thein Soe
(Myanmar)
For two months after arriving in Japan, I went through basic training where I learned Japanese language, culture, and lifestyle. I also had opportunities to visit various places. I am now taking extensive agricultural training, learning rice/vegetable farming and soil preparation. Although the mainstay of Myanmar's economy is agriculture, Myanmar is extremely hot and the soil is not fertile. I believe learning how to make compost and bokashi fertilizer to enrich the soil will be beneficial to my country. My hometown is very hot, and water for agriculture is scarce. After going back to my country, I am determined to work hard to improve Myanmar's agriculture by teaching farmers about soil preparation and effective brine treatment.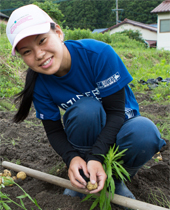 Ms. Delgersaikhan Otgonchimeg
(Mongolia)
For the first two months, I underwent basic training, focusing on learning Japanese. I love studying Japanese so I worked very hard. I also enjoyed meeting and interacting with a lot of people. I am currently undergoing agricultural training and I am particularly interested in Japan's organic vegetable farming. Since I like to grow flowers, I'd like to study more about flower farming. After going back to my country, I want to work at an agricultural training school and teach Mongolia's young students about what I am learning in Japan — vegetable/flower farming, bokashi making, and soil preparation. There are many people who don't know about effective farming in Mongolia. I believe it is extremely important to teach young students about farming techniques.
Post-Project Careers
The project has so far accommodated close to 70 trainees, including the current 10. By the end of March 2014, nearly 60 participants had completed training and returned to their home countries. According to follow-up studies conducted by OISCA, graduates are engaging in various projects such as improving agricultural practices, enhancing the health of saplings, and amending soil, carried out at government facilities, research institutions, and OISCA offices in each region.
Participation by Country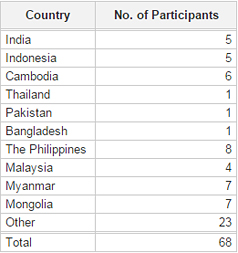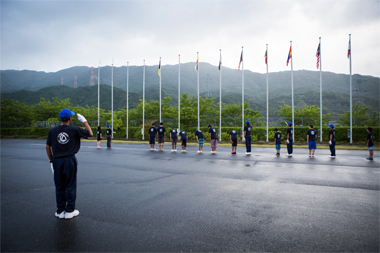 By leveraging our unparalleled global network and providing continued support to the project, MUFG is committed to contributing to the development of local economies and fostering future leaders in the Asia-Pacific region.