The Outlook for the Japanese Economy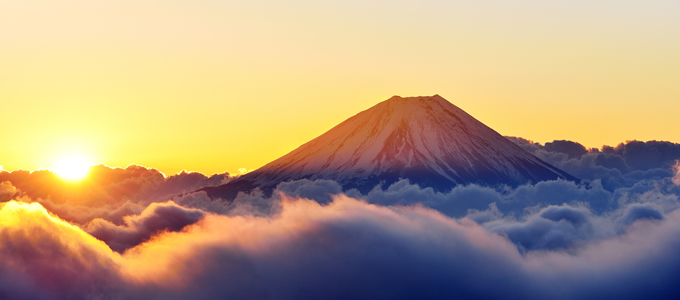 Mount Fuji
Introduction
The economic research group of BTMU has three offices in Japan (Tokyo, Nagoya and Osaka) as well as four overseas offices (New York, London, Singapore and Hong Kong). We have consistently combined our expertise to aggregate timely information and to make cutting-edge analyses in all offices, so that a lot of high-value economic reports have been able to be delivered to our customers as needed.
"The outlook for the Japanese economy" is the major report where well-timed analyses and clear prospects on the Japanese economy as well as domestic financial markets are presented, as you can see here. This report is updated and released on a quarterly basis (February, May, August and November).
We have also been offering various economic reports. On our website, you will find "Economic Monthly-Japan", which is a monthly report that concisely presents late-breaking stories about Japanese economy or "Economic Review", which is a sophisticated report with deep analyses of the hottest economic themes. For more information, visit our website.
Consumption Tax Hike Weathered as Virtuous Cycle Picks Up Steam,
Japan's Economy Stays on Recovery Course
1. Overview of the Japanese Economy
Corporate view of supply-demand balance still bright despite economic bump following consumption tax hike
Japan's economy hit a bump following the consumption tax hike in April. Real GDP slumped an annualized 7.1% YoY in Apr-Jun according to the Cabinet Office's second preliminary report, clearly reflecting a reactionary drop following the surge of demand ahead of the tax hike, particularly in private and residential investment demand (Figure 1). Although net exports boosted GDP because of a big drop in imports due to weakened domestic demand, exports remain soft.
The big GDP contraction stoked concerns about Japan's economic outlook, but companies do not appear to be as deeply concerned about the slowdown as the GDP data suggests. According to the BoJ Tankan Weighted Average DI—the weighted averages of the Production Capacity DI and Employment Conditions DI by capital and labor distribution rates—companies were clearly aware of a loosening macro-supply and demand balance in Apr-Jun. However, the weakening was not great and companies expect supply and demand to converge once again in Jul-Sept (Figure 2). Not only have companies already been feeling a tightening in the labor supply since H1 2013, more recently capacity also appears to be inadequate and the loosening supply-demand relationship is unlikely to quell companies' expenditure for the future.

Private consumption to recover as household incomes continue to improve on growing company willingness to hire
A continued tightening of supply and demand will be a key factor supporting both rising household incomes via expanded employment and higher wages as well as a recovery in personal consumption. Employment conditions are clearly improving, as compensation has been rising faster following the spring wage negotiations agreement for fairly large wage hikes. The employment rate by gender and age group shows that employment has been rising markedly among women and older workers compared to past economic peaks (Figure 3). This shows that a wide range of workers are more actively entering the labor market as wages rise because of companies' willingness to hire. We think such increased participation will contribute to boosting Japan's economic growth momentum over the medium- to long-term from both the supply and demand sides.
Government growth strategy propelling capital expenditures
Companies are steadily making more capital expenditures. In the June BoJ Tankan, large enterprises revised up their capital expenditure plans for this year by 5.8% from the March survey (Figure 4). The June revision rate was the biggest since 1991, during the bubble economy, and shows that corporate investment sentiment remains firm even in the wake of the consumption tax hike. Capital expenditures are like to keep expanding strongly as the sense of stock overcapacity has been largely dispelled and demand (including private consumption) remains firm. Manufacturers are making capital expenditures largely for upgrades and rationalizations, while non-manufacturers are investing to bolster capacity. The Government's steady implementation of its growth strategy, including cutting the corporate real tax rate, will encourage greater corporate investment activity.
Corporate forward-looking spending and investment activity accelerating virtuous cycle
The Japanese economy's virtuous cycle is gaining traction as companies make more forward-looking expenditures and investment activity picks up as supply and demand tighten. We expect the economy to weather the negative impact from the recent consumption tax hike and stay on a recovery course. Relatively strong growth in the wake of the big Apr-Jun slump is likely to persist and real GDP to grow by nearly 1% this fiscal year. We forecast Japan's economy to sustain a mid-1% growth rate in FY2015 as well, despite downward pressures from another consumption tax hike to 10%.

2. Current Conditions and Outlook, by Sector and Area
3. Current Conditions and Outlook, Monetary Policy and Financial Markets
4. Appendix
Outlook for the Japanese Economy
MAIN ECONOMIC AND FINANCIAL INDICATORS(JAPAN)
For further details, please contact the Economic Research Office,
Bank of Tokyo-Mitsubishi UFJ
Chief Manager, Yasuhiro Ishimaru
Tel: 03-3240-3204
Written by
Rei Tsuruta

Takayuki Miyadou

Tooru Kanahori

Yuusuke Yokota
This report is intended for information purposes only and shall not be construed as solicitation to take any action such as purchasing/selling/investing financial market products. In taking any action, each reader is requested to act on the basis of his or her own judgment. This report is based on information believed to be reliable, but we do not guarantee its accuracy. The contents of the report may be revised without advance notice. Also, this report is a literary work protected by the copyright act. No part of this report may be reproduced in any form without express statement of its source. This report is also available for viewing online.
September 30, 2014
(ORIGINAL JAPANESE VERSION RELEASED ON 11 SEPTEMBER 2014)