Ensuring the sustainable growth of BTMU's global business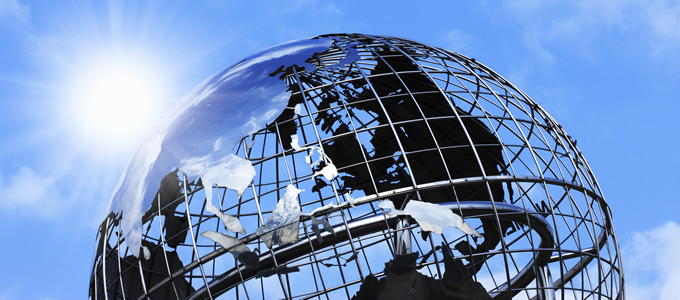 As the Bank of Tokyo-Mitsubishi UFJ starts a new chapter in the Americas by operating the U.S. banking operations under the new name MUFG Union Bank, N.A., from July 1, Takashi Morimura, Chief Executive of the Global Business Unit, talks about our global business.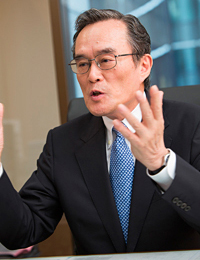 Our fundamental strength lies in our network outside Japan, which spans more than 40 countries around the globe. We will continue to reinforce this network by exploring and expanding in new areas, as well as by enhancing the capabilities of existing offices.
Our operations in each country are led by highly skilled locally hired experts. The depth of experience and diversity of our people is essential for the development of our business model.
We have also built strong relationships over the years with major corporations, local authorities, and central banks. Our research capabilities and specialized knowledge about local economies and societies where we operate has served us well as another core strength, enabling us to create effective networks in each country. Our plan is to continue developing and nurturing these relationships over the long term.
Integrating The Bank of Tokyo-Mitsubishi UFJ's (BTMU) U.S. branch banking operations and Union Bank, N.A., is a major step in maximizing these strengths. Our new Americas subsidiary operates full-fledged commercial banking aimed at large corporate to middle-market clients in the United States, the world's largest financial market. The bank contributes to the diversification of our revenue streams and provides a platform for further growth in the United States. This gives MUFG distinct advantages over other Japanese megabanks and international banks operating in that market.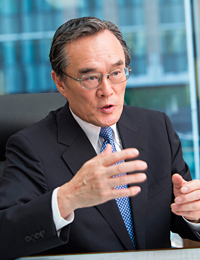 We are accelerating the progress of our initiatives in other regions as well. In Asia, we made a strategic investment into Thailand-based Bank of Ayudhya (Krungsri) to provide broader, locally based services to Japanese corporate customers and global services to local customers in Thailand.
In European countries as well as emerging countries such as Turkey, South Africa, and others, we are advancing cross-selling and becoming a core bank based on our strong product and sector capability. The Bank of Tokyo-Mitsubishi UFJ established a subsidiary in Turkey last November to capture expanding customer needs.
Morgan Stanley has top-level industry expertise in global and investment banking, and our strategic partnership with them is another asset.
To elevate our global businesses to a higher level and support our clients' growth, it is important to maintain and fully leverage our existing strengths – our global office network, our combined expertise of commercial and investment banking, our long-standing reputation as a trusted business partner, and the solid capital base and strong balance sheet we've maintained over the years. I believe these are essential priorities for our sustainable development. Above all, we will continue to meet and exceed the expectations of our customers.