BTMU Making Waves in the Islamic Finance Segment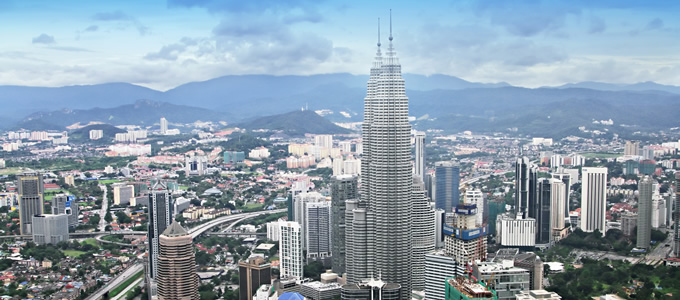 In Standard & Poor's Islamic Finance Outlook 2014, it was reported that global growth of the Islamic finance market will continue unabated this year, despite uncertainties in the world's financial markets. Standard & Poor's Ratings Services (S&P) believes that worldwide, Shariah-compliant assets – which they estimate at upward of USD1.4 trillion – are likely to sustain double-digit growth in the coming two to three years.
The report also highlighted that the establishment of globally accepted standards is necessary to spur further growth. In this respect, S&P believes that the two regional heavyweights and pioneers of the industry – Asia (most notably Malaysia) and the Gulf Cooperation Council (comprising Bahrain, Kuwait, Oman, Qatar, Saudi Arabia, and the United Arab Emirates) – are set to lead the way.
BTMU recognized this new market potential as early as 2008
Through its wholly owned subsidiary, the Bank of Tokyo-Mitsubishi UFJ (Malaysia) Berhad (BTMU Malaysia), BTMU became the first Japanese bank to set up its own Islamic finance hub in Asia.
Since its inception in 1957 in Kuala Lumpur, BTMU Malaysia has been instrumental in supporting Malaysia's economic development. As the longest-established Japanese bank in the country, BTMU Malaysia played a significant and proactive role in the internationalization of Islamic finance.
BTMU Malaysia set up its International Currency Business Unit (ICBU), which obtained its license from the central bank of Malaysia in 2008, to conduct Islamic banking in currencies other than the Malaysian Ringgit.
Shariah Islamic law
BTMU Malaysia is the only Japanese bank to have its own in-house Shariah Committee, which is formed by a team of Shariah scholars to provide Shariah compliance supervision and advice on Islamic financial transactions.
BTMU Malaysia's Islamic banking business has continued to progress steadily over the past few years, and it has since taken on an even more proactive role in pushing the development of the Islamic finance industry in Malaysia.
In June 2014, BTMU Malaysia became the first Japanese commercial bank to introduce a USD500 million multi-currency sukuk program, to be issued out of Malaysia's Islamic finance market. Sukuk is the Islamic equivalent of bonds.
Gaining Industry Recognition
The feather in the cap for BTMU Malaysia was gaining the recognition of industry peers upon receiving the award for "Best Japanese Bank" offering Islamic services by Islamic Finance News in early 2014.
This award clearly recognises BTMU Malaysia's commitment and achievements to further the internationalization of Islamic finance by continuing to participate in ground-breaking transactions and to further introduce innovative Islamic banking products.
BTMU Malaysia also received the 2013 "Structured Finance Deal of the Year" and "Best Fund Distributor" awards by Islamic Finance News.
All these new achievements, coupled with the expected growth in demand for Islamic finance products, have positioned BTMU Malaysia to tap into the opportunities that may arise as Islamic finance products become mainstream within the global investment community.
To learn more about BTMU's Islamic Finance offering, please do contact: Norazua Mohd Marzuki, +60-3-2034-6353, norazua.marzuki@my.mufg.jp.
Source: Standard & Poor's Islamic Finance Outlook 2014 Edition
What is Islamic banking
Islamic banking refers to a system of banking that complies with Islamic law also known as Shariah law. The underlying principles that govern Islamic banking are mutual risk and profit sharing between parties, the assurance of fairness for all and that transactions are based on an underlying business activity or asset.
Through the use of various Islamic finance concepts such as ijarah (leasing), mudharabah (profit sharing), musyarakah (partnership), financial institutions have a great deal of flexibility, creativity and choice in the creation of Islamic finance products.
Source: Bank Negara Malaysia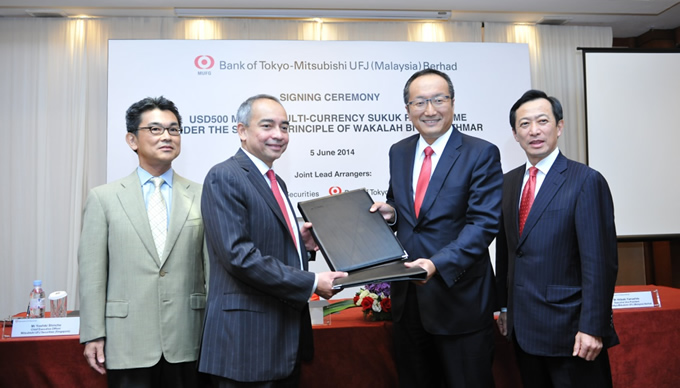 The Programme Agreement was signed by Mr Naoki Nishida, President and Chief Executive Officer of BTMU Malaysia (second from right) with Y. Bhg Dato' Sri Nazir Razak, Group Chief Executive, CIMB Group (second from left). The ceremony was witnessed by Mr Hiroshi Matsuura, Minister, Deputy Chief of Mission, Embassy of Japan in Malaysia (extreme left) and on the right Mr Go Watanabe, Chief Executive Officer, Headquarters for Asia & Oceania, The Bank of Tokyo-Mitsubishi UFJ, Ltd.