Conservation of the UNESCO World Heritage Site on the Kii Peninsula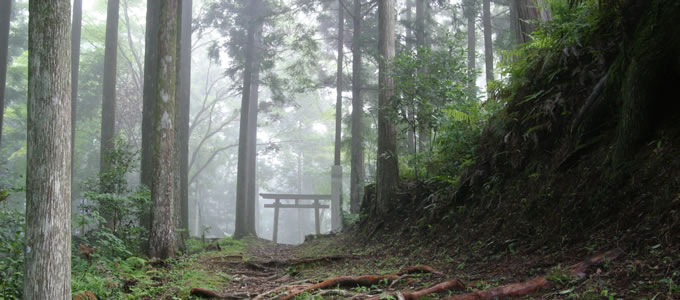 Kumano Kodo
Environmental conservation is an important cause for the Mitsubishi UFJ Financial Group (MUFG) and its employees around the world, including in Japan. On May 24, 2014, our people volunteered in a conservation activity "Michi Bushin" for the UNESCO World Heritage Site, "Sacred Sites and Pilgrimage Routes in the Kii Mountain Range". The area, known as Kumano, is in the south of Japan's main island on the Kii Peninsula, which is known for its rugged mountains, dense forests, abundance of scenic rivers and waterfalls, and ancient religious heritage. Kumano Kodo is the collective name for the footpaths that criss-cross Kumano and connect the area from the old capital cities of Kyoto and Nara.
Every year since 2011, MUFG has participated in the environmental conservation of pilgrimage routes sponsored by the Wakayama Prefectural Government. This year, MUFG engaged in footpath maintenance in the vicinity of one of Kumano Kodo's many shrines, Haraido-Oji. With heavy rains and wind throughout the year, the paths suffer damage from erosion and require restoration by replenishing and solidifying the soil. MUFG, under the guidance of staff from Wakayama Prefecture's Tourism Bureau and the Wakayama World Heritage Centre, transported approximately one ton of soil for the project.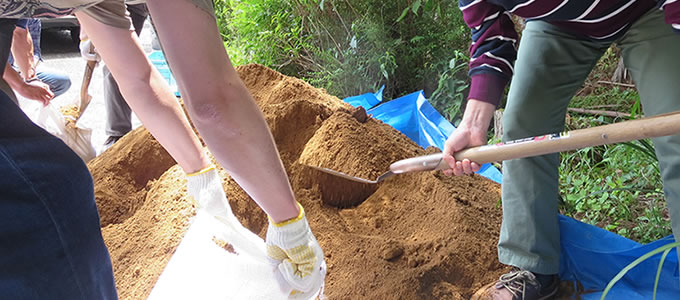 The "Michi Bushin" activity
Kumano Kodo
The Kii Mountain Range has been regarded as a sacred region of the gods since earliest times. Buddhism, which was introduced from China, also favored the region as a place for monks to practice asceticism in an effort to become like the Buddha. Blending with ancient Shinto beliefs, this resulted in a unique religious culture and the creation of the area's sacred mountain sites and pilgrimage routes. In the 12th century, retired emperors and aristocrats often visited Kumano from Kyoto, and through the years, the region became an increasingly popular destination for people from across the nation.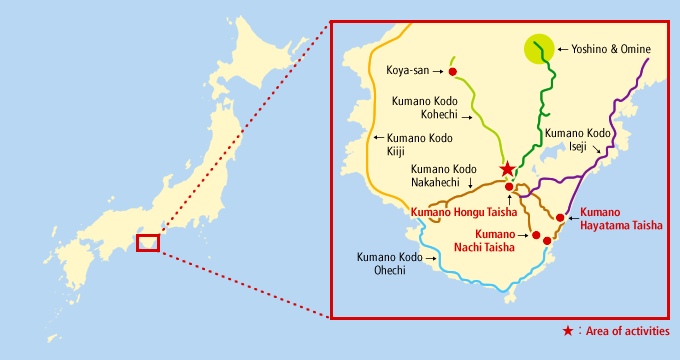 Community Commitment Continues Today
In July 2004, the area that includes Kumano Kodo was inscribed on the list of UNESCO World Heritage sites as "Sacred Sites and Pilgrimage Routes in the Kii Mountain Range" for its outstanding universal value. The total listed area covers almost 500 hectares, and the pilgrimage routes extend more than 300 kilometers. Maintained for more than a thousand years, Kumano remains a part of Japan's - and the world's - living culture.
Conservation activities like the one are important in order to ensure that Kumano Kodo remains as a vital resource for generations to come. MUFG intends to continue its participation in preserving cultural resources for posterity not only in Japan, but in all the countries where we do business. Our global CSR network is making a difference for society and for the environment in more than 40 countries.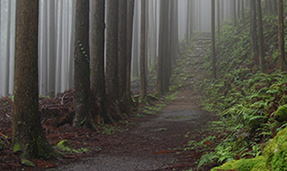 Kumano Kodo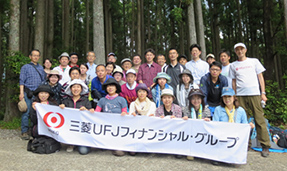 The "Michi Bushin" activity