Ogurayama Reforestation Project in Kyoto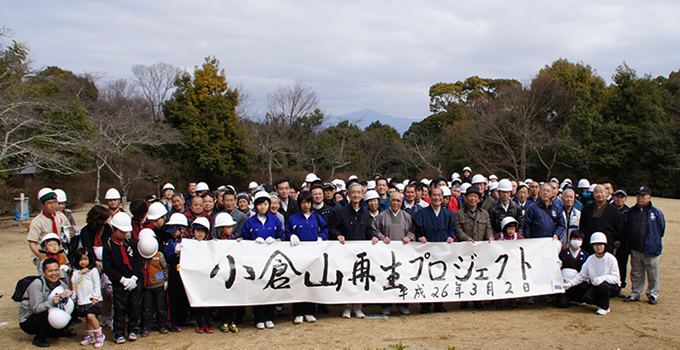 Volunteers and BTMU colleagues who participated in planting trees
Forests are vitally important ecological and cultural resources - and they are vulnerable. Human stewardship can play an important role in maintaining environmental sustainability and lies behind our commitment to help conserve and protect natural resources. One of our current efforts involves a major role in the restoration of Ogurayama, a celebrated mountain in the Arashiyama district of Kyoto where oak and pine trees have been dying in recent years as a result of insect-borne diseases.
On Sunday, March 2, 2014, the first new trees were planted under the Ogurayama Reforestation Project Support Agreement. This 10-year project, run mainly by Kyoto City, Mt. Ogura Preservation Society, The Mitsubishi UFJ Environment Foundation, and BTMU, promotes Ogurayama's landscape preservation through cooperation among the government, the community, and the business sector. A total of 120 people, including Kyoto City Mayor Daisaku Kadokawa, local residents, and a team from BTMU, planted 500 saplings of Japanese red pine in Ogurayama. From BTMU, President Nobuyuki Hirano and approximately 40 volunteers participated, planting trees inside a deer-proof fenced enclosure.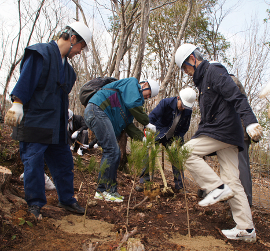 Volunteers and BTMU colleagues who
participated in planting trees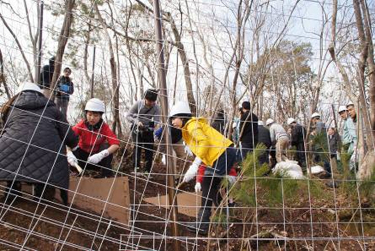 Volunteers and BTMU colleagues who
participated in planting trees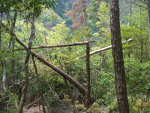 Dead pine trees due to pine wilt
Pine wilt
Pine wilt is caused by the pine wood nematode, which is carried by Japanese pine sawyer beetles. It rapidly turns healthy needles brown and kills the trees during the high summer and autumn.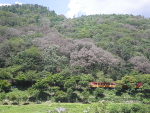 Ogurayama with dying oaks
Oak wilt
Oak wilt results from a type of fungi carried by ambrosia beetles, causes the leaves of large oak trees (such as mizunara and konara) and Japanese chinquapins to quickly wither, and kills the trees.
History of Ogurayama
The area of Saga-Arashiyama, where Ogurayama is located, has long been cherished for its beautiful landscape, which attracted many people to build villas and lodges there. The establishment of huge temples, such as World Heritage-listed Tenryu-ji, has contributed to the area's current fame as a center of history and culture. Legend has it that Fujiwara no Teika (1162-1241), one of Japan's most celebrated poets, compiled an anthology of one hundred poems by one hundred poets, Ogura Hyakunin Isshu, at his lodge. One of the poems is about the colored leaves of Ogurayama in the autumn - but the trees bearing these leaves have been vanishing at a rapid pace in recent years.
We at BTMU have pledged continued support of the restoration project in order to protect and revive the health of the natural environment whose beauty has been appreciated since the days of ancient Kyoto.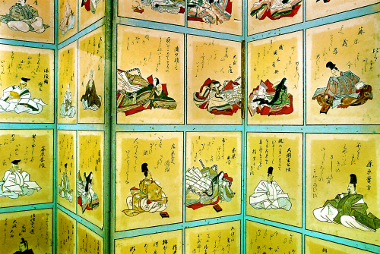 Painting of Hyakunin Isshu on a folding screen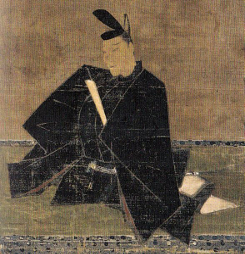 Portrait of Fujiwara no Teika