BTMU celebrates 60 years of strong business ties with India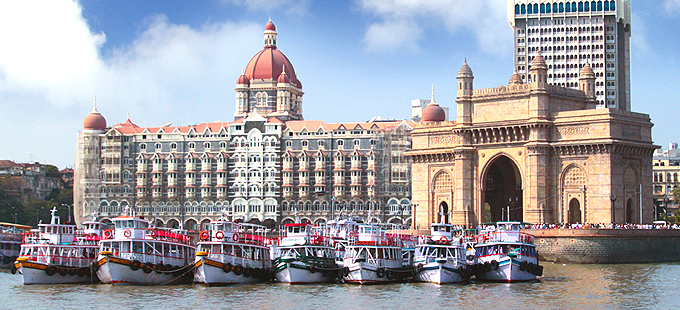 Gateway of India, Mumbai
BTMU established its presence in India in 1953 serving mainly Japanese corporates. Our operations have grown over the years, and we now have offices in the key cities of Mumbai, New Delhi, Chennai, and Neemrana, the latest branch to open, which serves clients located along the Delhi-Mumbai Industrial Corridor.
We will further expand our network with the opening of our new branch in Bangalore in the first half of 2014. This gives BTMU the largest branch network among Japanese banks in India.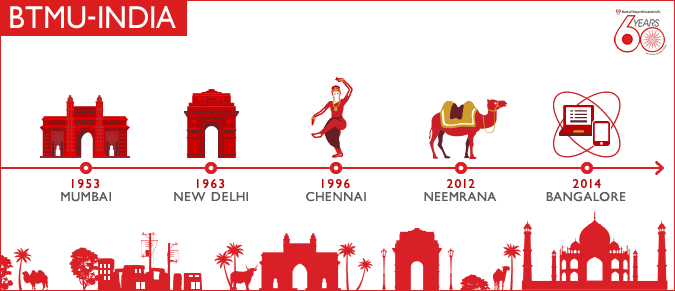 timeline chart of BTMU India branch network
India's remarkable transformation in the past two decades
Since its independence in 1947, India has transformed from a regional economy driven largely by agriculture to one of the largest economies in the world. Since 1997, India's economy has consistently posted an average growth rate of about 7% per year.
Japan-India ties
Japan's symbiotic relations with India have a deep-rooted connection that dates back to the sixth century with the advent of Buddhism. This eventually led to Japan and India signing a peace treaty and establishing diplomatic relations on 28 April 1952.
Shortly after, in 1953, BTMU became one of the first Japanese banks to establish a presence in the country. It was at the earliest stage of India's economic development that we began to provide the much-needed financial support that would help underpin the eventual transformation of India's agricultural-based economy to one that is now driven mainly by industry and services.
Through the years, as Japan-India relations deepened and matured, so has BTMU's investment in this key market.
60 years on and going strong
Takashi Morimura, Deputy President and Chief Executive of our Global Business Unit, says, "At BTMU, we take pride in being a part of the Indian growth story. In the past few decades, emerging Indian companies have become large corporates with a global presence. Thanks to Indo-Japanese diplomatic relations, many Japanese corporates have ventured into India to develop businesses here. As both countries continue to deepen their ties through various strategic economic alliances that include the joint development of industrial corridors between Delhi and Mumbai, and between Chennai and Bangalore, we expect to support these developments in growing our business."
As the largest Japanese bank by assets and network in India, BTMU has been helping large Indian, Japanese, and other multi-national corporates and financial institutions expand their businesses in India and globally through a suite of corporate banking and trade financing solutions. BTMU has been strong in offering corporate and trade finance solutions, especially export advances, treasury products, and term loans that can be used for both strategic purposes and the organic growth of our clients. We have led most of the marquee financing deals in India over the past five years, making us a lead banker in the Indian loan markets.
As the Indian economy expands with increasing focus on manufacturing and infrastructure, BTMU will continue to play its part in helping to fuel India's growth ambition.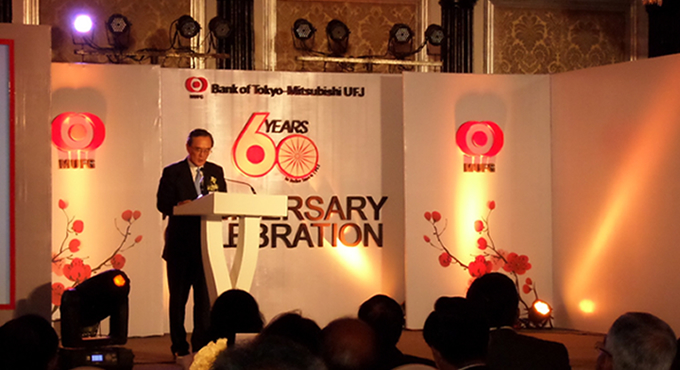 Takashi Morimura, Deputy President and Chief Executive of the Global Business Unit, delivering his welcome speech at the 60th Anniversary Celebration reception in Mumbai, India
Going beyond business
BTMU's contribution to India is not just limited to economic development. We have been working closely with various community partners in New Delhi, Mumbai, and Chennai on a series of volunteer initiatives that include forest preservation, coastal clean-up, and various programs supporting underprivileged and visually challenged children.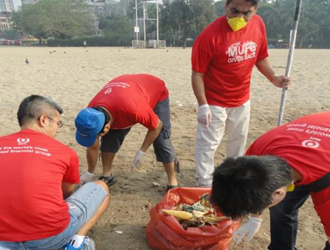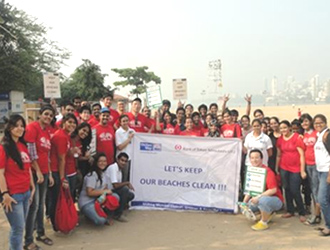 In Mumbai - cleaning the coastline