BTMU Provides Trade Finance with Cutting-edge Technology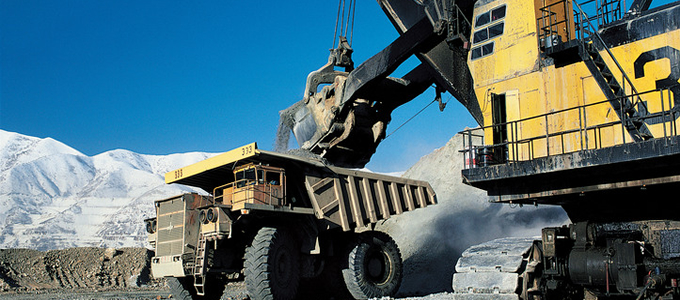 Responding to an ever-evolving trade environment, global corporations seek sophisticated trade finance solutions and services. To meet the demand, BTMU has leveraged our strong presence in this business and our global network to invest major resources into the market for the Trade Services Utility and the Bank Payment Obligation standard. Used together, these resources can reduce processing time significantly.
The Trade Services Utility (TSU) enables banks and clients to exchange and match trade information electronically. The Bank Payment Obligation (BPO) can be viewed as an electronic letter of credit, which provides an irrevocable undertaking that payment will be made on a specific date after the successful matching of data according to an industry-wide set of International Chamber of Commerce (ICC) rules.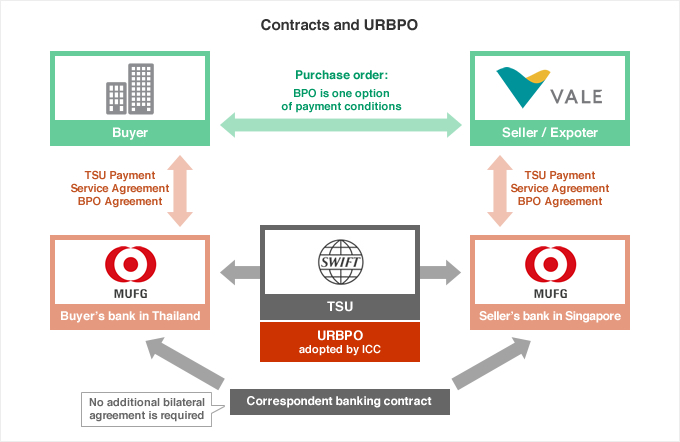 In July 2013, The Bank of Tokyo-Mitsubishi UFJ, Ltd. (BTMU) arranged a new TSU/BPO settlement between Vale International S.A. (Vale) and MSM (Thailand) Co., Ltd. (MSMT) . BTMU is the first bank in the world to provide non-recourse discounting export finance based on TSU/BPO.
Vale, the Brazilian metal and mining giant, appointed BTMU as a core transaction banking arranger because of our leadership and detailed knowledge of the TSU/BPO market, extensive customer base, and supporting capability
"Given the distance between Brazil and Asia, it typically takes around ten days for the original documents to reach the bank issuing the letter of credit," says Jose Carlos Guedes, Vale's Export Invoicing Manager. "With the TSU/BPO, the release of payment is no longer tied to the presentation of original documents. BTMU's expertise will enable us to make trade processing more efficient."
Suthee Chunpipat, Purchasing Manager of MSMT, adds: "MSMT needed a flexible materials ordering process, and Vale has wanted faster payment and less paper. Thanks to the leading position of BTMU on TSU/BPO, we were able to strengthen our relationship with Vale to our mutual advantage."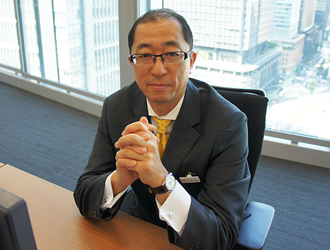 " TSU/BPO is one of BTMU's core products.
Our transaction banking technologies support multinational clients with capital management and operational efficiency, focusing on trade finance and cash management," says Yumesaku Ishigaki, BTMU Global Head of Transaction Banking. "This deal will help to accelerate the global financial supply chain with operational streamlining, safety, and early fund collection and cost reduction."
Yumesaku Ishigaki
BTMU Executive Officer
Global Head of Transaction Banking
(as of September 9, 2013)
TSU enables customers and banks to exchange and match trade information electronically on the SWIFT interbank system. BPO is an irrevocable obligation for one bank to pay another bank on a specified date after a specified event has taken place, as documented in a report generated by the TSU. The product enhances the ability of banks to mitigate the risk associated with international trade.
Effective July 2013, the ICC launched the Uniform Rules for Bank Payment Obligation (URBPO), which will establish uniformity of practice in the market adoption of the BPO. The volume of TSU/BPO transactions is expected to increase rapidly as a result.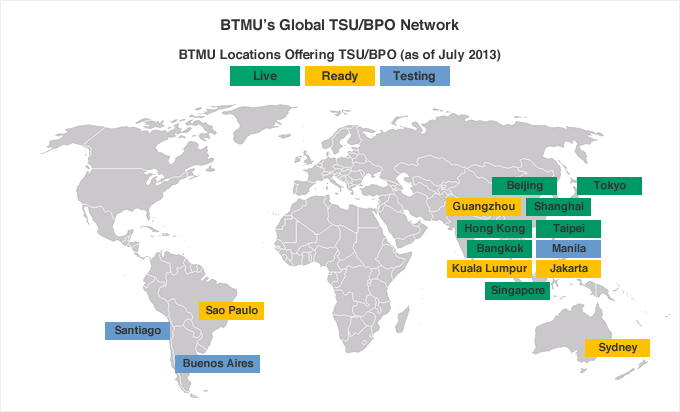 For further information on how the BTMU TSU/BPO Project Team may help with your needs and queries, please contact:
Tel: +81-(0)3-6259-6716
Mr. Daisuke Takeshita, Senior Manager
Sales Department, Transaction Banking Division
E-mail: daisuke_takeshita@mufg.jp
Tel: +81-(0)3-6259-6739
Mr. Daisuke Kamai, Manager
Service & Products Department, Transaction Banking Division
E-mail: daisuke_kamai@mufg.jp
Tel: +81-(0)3-6259-6658
Mr. Keizou Morimoto, Manager
Planning Department, Transaction Banking Division
E-mail: Keizou_3_morimoto@mufg.jp

SWIFT website: BPO Case Study - Vale with Bank of Tokyo-Mitsubishi UFJ

(520KB)