International Business Summit in Kyoto co-hosted by BTMU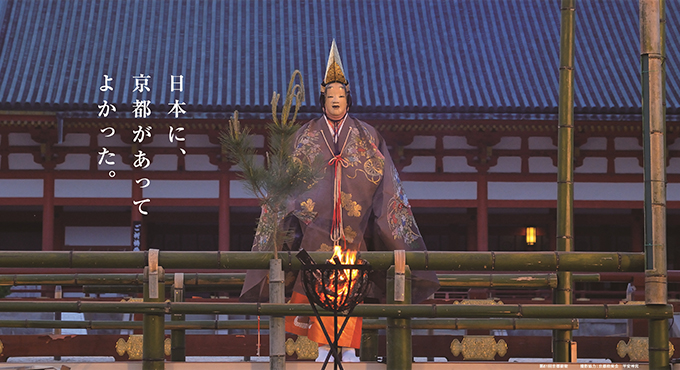 The Japanese catch-phrase in the above image connotes
"Preserve and develop Kyoto, the treasure of Japan, and guide it to the future".
BTMU serves as a Visit Kyoto Ambassador of this world-class tourist city.
(This image is from one of the posters of the City of Kyoto: 61st "Kyoto Takigi-Noh",
Photograph taken with the cooperation of the Kyoto Noh Association and Heian-jingu Shrine.)
Kyoto is not only a world cultural capital but a center of business and technological innovation. The quarterly meeting of the Asia-Pacific Economic Corporation (APEC) Business Advisory Council (ABAC) held there this July gave visitors an opportunity to see the kind of innovative products and services that Kyoto companies offer to both domestic and global customers. During the four-day event, the Bank of Tokyo-Mitsubishi UFJ (BTMU) co-hosted the APEC Small and Medium Enterprise Summit. The summit showcased the development of Japanese small and medium-sized business around Kyoto that use new and advanced technologies and demonstrated their business capabilities to an international audience.
Ancient City of Kyoto
BTMU serves on the Japanese Board for ABAC and as a Visit Kyoto Ambassador. In 1994, some 1,200 years after the Heian capital relocated to Kyoto, the city's outstanding cultural heritage earned its recognition as a UNESCO World Heritage Site. The designation highlights 16 temples and shrines and Nijo Castle and contributes to Kyoto's status as a world-renowned attraction. We are proud to support both the economic and cultural life of this great city.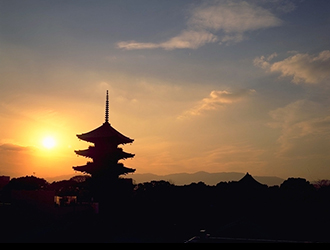 To-ji Temple
Image provided by Kyoto Convention Bureau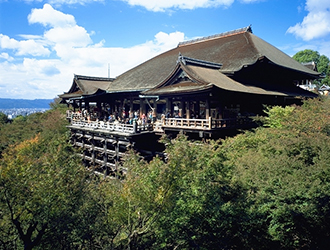 Kiyomizu-dera Temple
Image provided by Kyoto Convention Bureau
Expositions Fostered Growth
Industrial development also played a strong role in the transformation of Kyoto into a world destination. In part, this development was a result of 56 expositions held almost every year from 1871 to 1928. These expositions helped develop the city's infrastructure, industry, and tourism. The annual spring dance festival, Miyako Odori, popular among both locals and tourists, was created as an attraction for the Kyoto Exposition of 1871.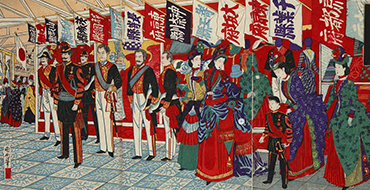 The atmosphere at the expositions. New cultural and technological innovations were showcased from around the country.
Image provided by Kyoto prefectural library and archives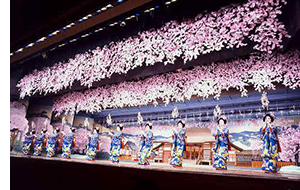 Miyako Odori
Image provided by City of Kyoto and
Kyoto Convention & Visitors Bureau


Kyoto Travel Guide website
Development of Kyoto's Industry
In response to demands created at the expositions, new scientific technologies were introduced into Kyoto and helped development and promotion of industries such as textiles, fabric dyeing, pottery, printing and sake. Growth was supported by three major undertakings, the Lake Biwa canal, water supply enhancements, and the opening of an electric railway. Seimikyoku, a public institution established in Kyoto in 1870 for scientific research and dissemination, supported research into new technology for pharmaceutical products, sake and glass and produced many engineers. New industries born at the time laid the foundation for today's advanced industry in Kyoto, which includes information technology and electronics.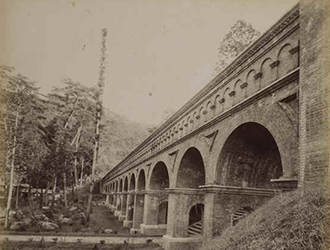 The Lake Biwa canal, water supply enhancements.
Image provided by Kyoto prefectural library and archives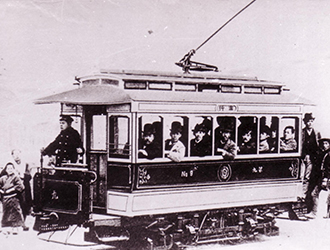 Electric railway
Image provided by City of Kyoto
BTMU recognizes that commerce is the lifeblood of the region and business is the engine of economic growth. We will continue to help promote Japanese technology to a global market through events such as the Small and Medium Business Summit.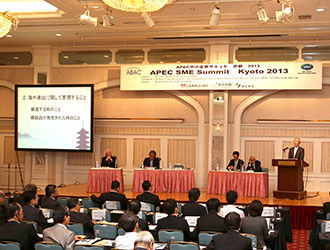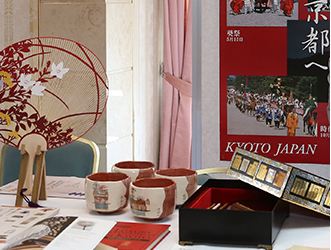 Scenes at APEC Small and Medium Enterprise Summit:
Panel discussion and Exhibition booth
Image on the global website homepage: Yasaka Tower, Higashiyama Hanatouro
Image provided by Kyoto Hanatoro Promotion Council


Kyoto Hanatouro website