50th Anniversary: Bank of Tokyo-Mitsubishi UFJ (Holland) N.V.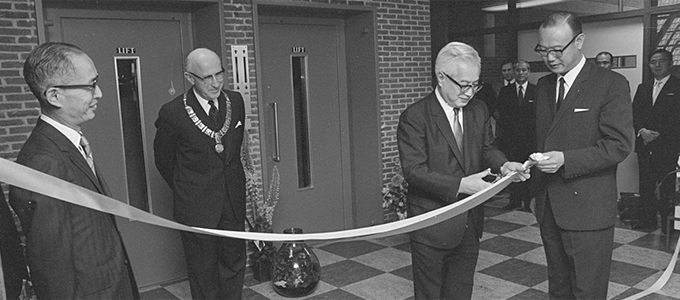 "1972: the opening ceremony of the Bank of Tokyo (Holland) N.V."
In July 2013, Bank of Tokyo-Mitsubishi UFJ (Holland) NV, the fully-owned subsidiary of The Bank of Tokyo-Mitsubishi UFJ, Ltd (BTMU), celebrates its 50th anniversary of business in Amsterdam following the opening of its Amsterdam representative office in 1963. In 1972, the business of the representative office was extended by the opening of a subsidiary bank. It is BTMU's pleasure to be able to support the businesses of our customers over the last 50 years. This could not have been achieved without the support of the Dutch people and its society.
The Netherlands is located almost in the middle of the Europe, and plays an important role in transportation over land, by sea and air. So much so, that many foreign companies establish their business centers or offices in the Netherlands. Furthermore, the Dutch government is active in planning the development of its infrastructure, including the construction and renovation of harbors and highway networks which have led to the country being recognized as an attractive logistics hub in Europe. In addition, the government is also committed to renewable energy developments, such as wind power generation, (as exemplified by the fact that the Netherlands is known for the windmill.) Even in the midst of an economic crisis in Europe, for a country such as the Netherlands with a steady financial base, project finance for infrastructure and environmental preservation projects is a very attractive prospect to international financial institutions. BTMU has financed many of these projects.
We are committed to contributing to Dutch society by supporting our customers' domestic and international businesses through high quality banking services, and by promoting project finance initiatives for various infrastructure and environmental preservation projects.