MUFG Bank (Europe) N.V. S.A. Oddział w Polsce
| | |
| --- | --- |
| Address | 19th floor, Warsaw Financial Center, Emilii Plater 53, Warsaw, Poland (mailing address: ul. Emilii Plater 53, 00-113 Warszawa, Poland) |
| Telephone | 48-22-520-5233 |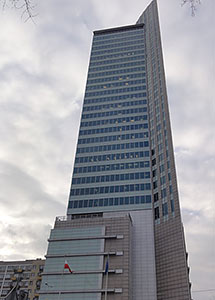 Corporate and Investment Banking;

Business financing
Loans, Foreign trade services incl. Letter of Guarantee, Letter of Credit, Documentary collection, Export and Import finance
Global products and services
Project finance, Syndication, Securitisation, M&A and corporate advisory in cooperation with MBE Head Office and other MUFG counterparties
Treasury
Term deposits, Foreign exchange (Spot and Forward and Swap)
Transaction processing and settlement
Accounts, Domestic and foreign remittances, Sweep services, Direct debits, Bulk and mass payments, MT 101/ MT 940 account services, Cash operations (through partner bank) Electronic banking through the Internet
Effective 1 May 2017, The Bank of Tokyo-Mitsubishi UFJ (Polska) S.A. was transformed into a branch of MUFG Bank (Europe) N.V., MUFG's European subsidiary.

The Bank of Tokyo-Mitsubishi UFJ (Polska) S.A. was established in 2001 as the first Japanese bank operating in Poland. We began operations in April 2002, gradually expanding our services and now provide full-service banking facilities to corporate clients, especially Japanese investors. Currently around 30 staff members work at the bank.
The Polish economy is one of very few in Europe achieving stable growth through increasing consumption, investment, and export. Poland is a great market for any kind of business, particularly since 2004 when it joined the European Union. We offer a full range of banking services, and as part of MUFG's global network, we will remain the part of "the world's most trusted financial group", satisfying both Japanese and non-Japanese customers' needs in Poland. We are principally focused on corporate banking and have a unique position with the Polish banking sector because we have a great advantage for Japanese related business.
(as of April 1, 2018)