Address
13th floor,East Wing Al Nakhlah
Tower, King Fahd Road, As
Sahafah Dist. Riyadh 13315,
Kingdom of Saudi Arabia
Telephone
+966-11-835-3900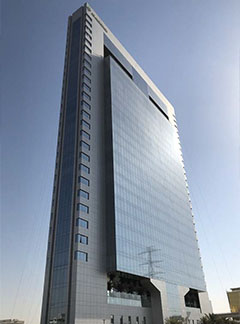 Loans
Bank Guarantees
Advising/Confirmation/Discounts/Collection
Import: Letters of Credit Issuance
Export: Letters of Credit
Remittances
Settlement Accounts
MUFG opened a branch in Riyadh, Saudi Arabia in October 2018.
The Kingdom of Saudi Arabia is one of the world's largest oil reserves and a major energy producer and exporter. In addition to having the largest economic scale in the Middle East, the Kingdom is a promising market with a population of over 30 million. The Kingdom is a member of the G20, and holds a strong presence as one of the leading countries in the Middle East and North Africa.
MUFG has established a wide network in the Middle East, comprising of branches in UAE (Dubai and Abu Dhabi), Bahrain, and offices in Doha, Tehran and Cairo. With the establishment of the branch in Riyadh, MUFG Bank will offer a broad range of comprehensive financial services in the Kingdom and support clients' business development in the future.
(as of November 3, 2019)