| | |
| --- | --- |
| Address | Level 12 of the West Tower, Financial Centre, Bahrain Financial Harbour, P.O.Box 5850, Manama, Kingdom of Bahrain |
| Telephone | 973-1710-3300 |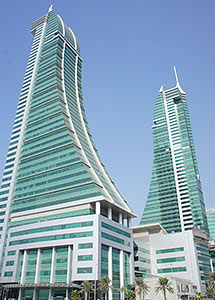 Various financial products and services in conjunction with the Dubai Branch.

In 1977 our predecessor company the Bank of Tokyo opened its Bahrain Representative Office. In 1980, the office obtained a wholesale branch license. It was re-established to form Bahrain Branch in January 2006. In October 2012, a hub function of the Middle East Offices was transferred to Dubai after the opening of the Dubai Branch.

Bahrain is a small island country situated near the western shores of the Arabian Gulf to the west of Saudi Arabia. MUFG Bank, Ltd. has built a solid reputation in the corporate and project finance market over 30 years of its establishment in Bahrain. As one of the leading international banks in the Middle East and the only Japanese bank with a wholesale banking license in Bahrain, we serve both local corporates and Japanese corporates with a comprehensive portfolio of products and services.

(as of July 16, 2018)