Address
Ropemaker Place, 25 Ropemaker Street, London EC2Y 9AN, United Kingdom
(mailing address: P.O.Box 280, London EC2M 7DX, United Kingdom)
Telephone
44-20-7577-1000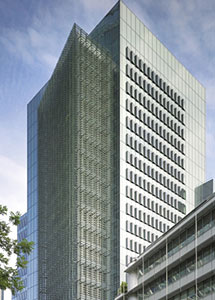 Relationship management for Japanese and non-Japanese customers in the UK and across Europe, Middle East and Africa, delivering corporate lending and all other commercial products.
Acquisition Finance
Commodity and Structured Trade Finance
ECA Finance
Syndicated Loan
Asset-backed Securitisation
Structured Finance
Project Finance
Transportation Finance
Project / Debt Advisory Services
Project Finance Ratings Advisory
Agency Services
Foreign Exchange (Spot / Forward / Non Deliverable Forward / Currency Option)
Deposits / Certificates of Deposit (CD)
Market research
Liquidity Management (Account Monitoring, Cash Pooling)
Payment Solution (Internet Banking, Data Interface)
SWIFT Connectivity
Other Cash Management Services
Conventional Trade Finance
The bank's history in the UK began in the early1880's. We are a member of one of the world's largest financial groups with ambition and vision to be the world's most trusted financial group. London is the home of its Headquarters for Europe, Middle East and Africa operating over 20 countries across the diverse region, with close links to affiliate company MUFG Securities ensuring we can offer a full suite of products and services to our customers.

(as of June 12, 2018)