| | |
| --- | --- |
| Address | Suite A3, Mezzanine Floor, Tornado Tower West Bay, P.O. Box 23153, Doha, State of Qatar |
| Telephone | 974-4433-5000 |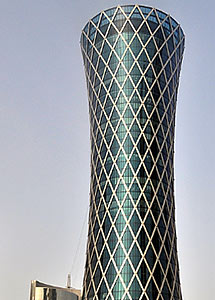 Relationship management and serving as the main focal point in Qatar for providing financial services to our clients in conjunction with product offices of MUFG Bank, Ltd. and other MUFG affiliates.

The Bank opened its Doha Office on March 30, 2009, having acquired authorisation from Qatar Financial Centre Regulatory Authority and a licence from Qatar Financial Centre Authority as a PIIB Category 4 firm on January 15, 2009.

Supported by substantial energy resources, particularly that of natural gas, the State of Qatar is one of fastest-growing countries in the Middle East. Qatar is currently the largest liquefied natural gas producer in the world, with a production capacity of 77 MTPA. It is also the host country for the FIFA World Cup in 2022. We provide a wide range of corporate and investment banking services through coordination with product groups from London and other MUFG affiliates.

(as of July 16, 2018)