Cairo Representative Office
Address
10th Floor, Nile City Towers, South Tower, Corniche El-Nil
P.O. Box 942, Cairo, Egypt
Telephone
20-2-2461-9690, 20-2-2461-9691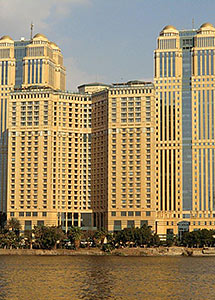 Liaison function between our Japanese, international, and local customers in this region and related offices of MUFG Bank, Ltd.
Research and study of the investment climate and foreign investments.
Collection and provision of relevant and reliable information on political, economical, financial, and industrial sectors in the region.

The Bank's history in Egypt began in August 1954 with the opening of the Alexandria Representative Office of the former Bank of Tokyo. The office moved to Cairo in 1962 and closed 1967. A new Cairo Representative Office opened in April 1975 and was restructured to form what is now known as MUFG Bank, Cairo Representative Office in January 2006. Currently 6 staff members work at the office. We cover twelve countries in North Africa, the Middle East and southern Europe: Egypt, Tunisia, Libya, Algeria, Morocco, Sudan, Syria, Lebanon, Jordan, Israel, Palestine and Cyprus. Supported by diversified economy, large and competitively priced labour force, strategic location and proximity to key global markets, Egypt is considered one of the most important countries in the Middle East region and it is a promising area for investment. Making use of our wide range of knowledge and experience due to our presence in this country for many decades, we proactively support your investments and business development.
(as of May 14, 2018)