| | |
| --- | --- |
| Address | World Trade Center, Tower I, Strawinskylaan 1887, 1077 XX Amsterdam, The Netherlands (mailing address: P.O. Box 75682, 1070 AR Amsterdam, The Netherlands ) |
| Telephone | 31-20-5737737 |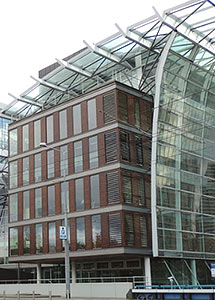 Corporate and Investment Banking;

Capital market and investment banking
Project finance, Aircraft finance & cross border lease finance
M&A and Corporate Advisory
Financial engineering
Asset management
Non-Japanese Corporate Banking, focusing on Dutch large corporates
Documentary business and guarantees
Export and import finance
Derivative products: swap, swaptions, caps/floors
Deposits, FRA, IRF
Foreign exchange: spot, forward, currency option contracts
Full range of money transfer services
Current account cash pooling
Multibank account information
Realtime account information
In the early 1960s the bank foresaw a strong Dutch-Japanese trade expansion and set up a representative office in Amsterdam as an investment location for Japanese financial institutions and companies. In 1972 the office converted to a fully-fledged banking subsidiary under Dutch Law. After several mergers, the Bank of Tokyo-Mitsubishi UFJ (Holland) N.V. was formed, and branches were opened in Vienna and Prague, and a subsidiary in Warsaw.
In May 2016, the Bank of Tokyo-Mitsubishi UFJ (Holland) N.V. was renamed to MUFG Bank (Europe) N.V. incorporating the Bank's Brussels branch into the network.

The economy of The Netherlands is one of the strongest in the world. Import and export figures grow yearly and unemployment is relatively low. This is a country worth doing business in, and throughout many decades large Japanese multinationals and companies have found their way to The Netherlands and built successful businesses. The bank services most of the Japanese trading companies in The Netherlands, Poland, Austria, Hungary, the Czech Republic, Belgium and many of the large Dutch corporates.

(as of April 1, 2018)