Our Business
Mitsubishi UFJ Financial Group (MUFG) is one of the world's largest and most diversified financial groups with total assets of JPY258.1 trillion as of March 2014.
MUFG's services include commercial banking, trust banking, securities, credit cards, consumer finance, asset management, leasing and many more fields of financial services.
The group has the largest overseas network of any Japanese bank, comprising offices and subsidiaries, including MUFG Union Bank and Bank of Ayudhya, in more than 40 countries and 1,150 offices around the world.
MUFG Bank, Ltd. is one of the group's five primary operating companies.
MUFG Business Platform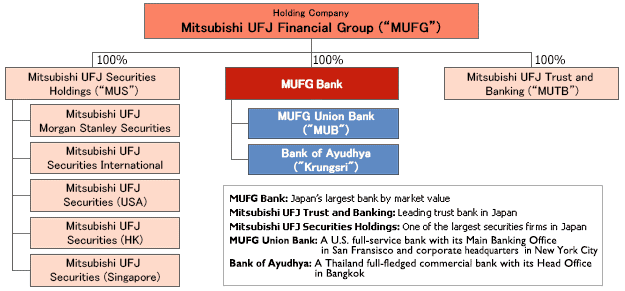 For Global Strategy of MUFG and MUFG Bank, please see

here.
For MUFG Bank's financial statement;